Posted on
Fri, Jul 26, 2013 : 10:50 a.m.
2 robberies reported Thursday in Ann Arbor, 1 Friday at U-M
By Kyle Feldscher
Ann Arbor police are investigating two robberies reported Thursday, including one near the University of Michigan's campus in which an armed man demanded drugs.
In addition, the University of Michigan Police Department is also investigating a robbery near the West Hall Arch early Friday morning.
Ann Arbor police Lt. Renee Bush said that incident was reported at 10 p.m. Thursday in the 900 block of Church Street. Bush said two men knocked on the door of an apartment and one pulled out a black handgun and told the resident to give him drugs, Bush said.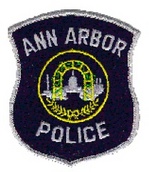 The Ann Arbor Police Department's detective bureau is investigating the incident. No suspect description was released Friday.
The other incident was a strong-arm robbery that took place between 3 p.m. and 3:25 p.m. Thursday in the 2500 block of Jackson Avenue. Bush said a man walked up to a woman sitting outside and grabbed her iPad off a table.
The man ran toward the Westgate Shopping Plaza and police continue to search for him. The man is described as black, in his 20s and was last seen wearing a white T-shirt and shorts.
Police did not immediately release information on injuries in either robbery.
At 3:15 a.m. Friday, U-M Police were notified of an armed robbery that took place near the West Hall Arch.
According to police, two men approached a person walking in the area and brandished a handgun. The men demanded money and the victim fled the area, police reported.
The first suspect is described as Middle Eastern or black, 6-foot-1, 160 pounds, curly hair, wearing a gray tank top and shorts and had tattoos on both arms. The second suspect is described as Middle Eastern or black, between 5-feet-7 inches and 5-feet-8 inches tall, 160 pounds, muscular and wearing red clothing.
"We're in communication with Ann Arbor to see if there's any connection between the two incidents," Brown said about the Church Street and West Hall Arch robberies.
The man who fled the area was with two friends, Brown said. They've not cooperated with police thus far, she said.
The UM Police sent out a crime alert for the Church Street incident and the West Hall ARCH attempted robbery Friday.
Anyone with information on these incidents is encouraged to call the Ann Arbor police anonymous tip line at 734-794-6939, U-M police at 734-763-1131 or Crime Stoppers at 1-800-SPEAK UP (773-2587).

View 900 Church St in a larger map
Kyle Feldscher covers cops and courts for AnnArbor.com. He can be reached at kylefeldscher@annarbor.com or you can follow him on Twitter.