Posted on
Fri, Dec 28, 2012 : 6:24 p.m.
3 Detroit men charged in armed robbery of cab driver
By Julie Baker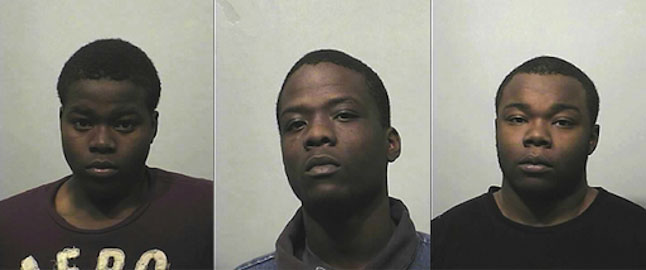 Washtenaw County Sheriff's Office
Three Detroit men face armed robbery charges after police say they assaulted a cab driver in Ypsilanti Township and stole cash and a cellphone.
Samuel Anthony McCray, 17; Richard Quinton Winston, 21; and William Lucas McCray, 22, were each arraigned Friday charges of armed robbery, conspiracy to commit unarmed robbery and unarmed robbery.
According a news release from the Washtenaw County Sheriff's Office, deputies responded around 6:15 p.m. Wednesday to the 800 block of George Place in Ypsilanti Township for the report of an armed robbery that had just occurred. Initial reports indicated that a cab was called to the area and when it arrived three men got in. Once inside, the men reportedly assaulted the driver and stole cash and a cellphone. The suspects fled the area prior to police arrival.
Along with the deputies, a sheriff's office K-9 unit responded to the scene. The K-9 track led through the subdivision and eventually to the Harmony House Motel at Michigan Avenue and Ecorse Road. Deputies interviewed people in the area, which led them to a specific room where they made contact with two men. Another man was caught when he attempted to flee the area, according to the release.
The three men were arrested following further investigation.
Samuel McCray and Winston are being held on $250,000 bonds, while William McCray is being held without bond.
The trio's next court date is 8:30 a.m. Jan. 8.
Julie Baker can be reached at juliebaker@annarbor.com or at 734-623-2576. Follow her on Twitter @juliebakera2.