Posted on
Wed, Sep 4, 2013 : 8:47 a.m.
3 teens accused of shooting at men have hearings adjourned
By John Counts
Courtesy of Washtenaw County Jail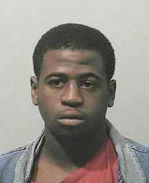 Courtesy of WSJ
The three teens accused of shooting at two men in Ypsilanti Township last month had their preliminary examinations adjourned Tuesday in 14A-1 District Court.
Garland Johnson, 18, Marquell Ganter, 17, and Davon Davis, 15, appeared briefly in the courtroom with their respective attorneys where they waived their rights to holding the exam within 14 days of being arraigned.
Davis was charged Aug. 22 as an adult on numerous charges including attempted to murder. Ganter and Johnson were charged the next day.
Davis wore a yellow jumpsuit from the Washtenaw County Juvenile Detention center, where he continues to be held. Judge Joseph Burke asked Davis if he understood the waiver.
"Yes, sir," Davis said.
Ganter and Johnson were brought into the courtroom from the Washtenaw County Jail, where they continue to be held on $500,000 cash bonds.
They also waived their rights to an exam to establish probable cause within 14 days.
It was not made clear in court why the defendants wanted more time before the examinations. Burke scheduled the three hearings for Sept. 17.
Police believe Johnson was the gunman who fired off five shots from the back of a Chevy Impala at two men standing in front of a residence in the 500 block of Greenlawn Avenue in Ypsilanti Township around 5:50 a.m. Aug. 21 after Johnson attempted to steal a motorcycle from the shed at the home earlier in the morning.
After two confrontations, the three teens are accused of driving by the residence on Greenlawn, when the shots were fired. The rounds hit the house and an SUV parked in the driveway.
As they attempted to get away, four suspects in the vehicle hit a parked car a few houses away and tried fleeing on foot. Deputies caught up with Davis, Ganter and Johnson on a nearby Interstate 94 off-ramp. By the time the deputies were out of the patrol vehicle and chasing the three teens on foot, Ganter had the pistol and fired it in the presence of the officers.
Ganter told police he accidentally fired the gun, which was allegedly stolen from a vehicle earlier in the month, officials said.
Deputies arrested Davis and Johnson on Tyler Road soon after the shots were fired. Ganter got away and a hours-long manhunt ensued invoking canine units and a helicopter. Ganter eventually turned himself in.
All three teens are from Ypsilanti Township and face two counts of assault with intent to murder and one count of carrying a concealed weapon.
Davis is also charged with two counts of assaulting and resisting a police officer and commission of a felony with a firearm.
Johnson is charged with possession of a firearm, assaulting or resisting a police officer, attempted breaking entering and commission of a felony in which a motor vehicle was used.
Ganter is charged with receiving and concealing a firearm, carrying a weapon with unlawful intent, assaulting or resisting a police officer and commission of a felony with a firearm.
John Counts covers cops and courts for AnnArbor.com. He can be reached at johncounts@annarbor.com or you can follow him on Twitter.