Posted on
Thu, Aug 29, 2013 : 12:23 p.m.
7 people found trespassing in Michigan Stadium with alcohol and marijuana
By Kyle Feldscher
It might be a time-honored tradition to break into The Big House and run around on the field, but an illegal trip to the Ann Arbor landmark ended in handcuffs early Wednesday.
Six University of Michigan students and one visitor were found with alcohol and marijuana on the turf of Michigan Stadium, according to police.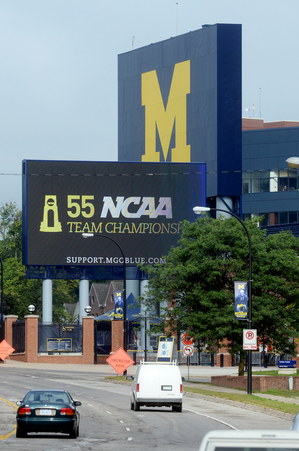 Melanie Maxwell | AnnArbor.com
According to the
University of Michigan Police Department
's
summary
, the people were found at 2:41 a.m. Wednesday. The stadium is at 1201 S. Main St.
Police stated all seven were cited for unlawful entry. One student was arrested for minor in possession of alcohol, a second student was arrested for an MIP and possession of suspected marijuana and a third student was arrested for failure to provide identification.
All seven people were processed and released pending warrant authorization from the Washtenaw County Prosecutor's Office, according to police.
With students returning to campus this week, there's already a trickle of overly intoxicated people needing treatment.
Three people were taken to the hospital early Wednesday morning after drinking too much, police said.
One person was taken at 3:02 a.m. Wednesday from Bursley Hall, 1931 Duffield St. and a second was taken at 3:10 a.m. from Mary Markley Residence Hall, 1503 Washington Heights, to University of Michigan Hospital's emergency room. Both of those individuals were minors but were not cited for MIPs, according to police.
The third intoxicated person was taken from the 600 block of Oxford Street to U-M Hospital for treatment at 3:55 a.m. Wednesday, according to police.
Kyle Feldscher covers cops and courts for AnnArbor.com. He can be reached at kylefeldscher@annarbor.com or you can follow him on Twitter.