Posted on
Sun, Sep 8, 2013 : 11:10 a.m.
72 people ejected from Michigan Stadium during busy night for police in Ann Arbor
By Kyle Feldscher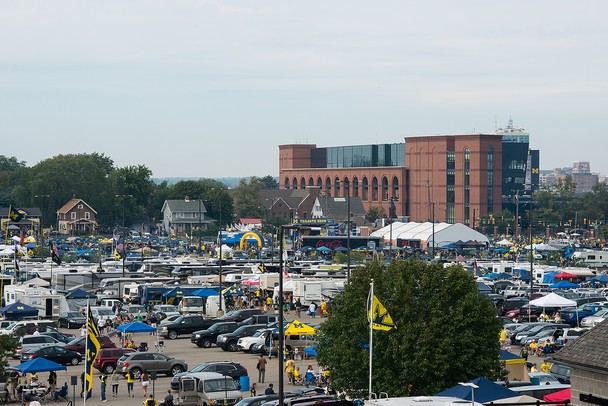 Patrick Record | AnnArbor.com
It was a day characterized as extremely busy by police, but officials reported few major incidents in Ann Arbor Saturday as Michigan and Notre Dame duked it out in the second-ever night game at Michigan Stadium.
Inside the stadium, officials from the University of Michigan Police Department said officers ejected 72 people, and arrested 11, from the record-setting crowd. Outside the stadium, officials reported a couch fire and a fight on East University Avenue, but no other major incidents.
U-M police officials reported six people were arrested for being minors in possession of alcohol, three for resisting and obstructing a police officer, one person for trespassing and one person for disorderly conduct. Eleven other people were given citations — 10 for having alcohol in the stadium and one for unlawful entry, according to police.
Fifty additional people were ejected for a variety of offenses, ranging from disorderly conduct to urinating in public, police said.
In addition, 133 people had to be treated by emergency medical personnel, police said. Of those 133 people, 21 were taken to the hospital.
The official attendance at the game was 115,109, a new Big House, and NCAA, record.
The stadium was the main hub of activity Saturday in Ann Arbor, but with a flood of people coming into all parts of the city, police were kept busy.
Ann Arbor police Sgt. Colleen McCarthy said some officers that were scheduled to work until 7 a.m. Sunday ended up leaving the station a couple hours later than planned. She said police were busy with calls for service the entire day, but there was nothing too out of hand.
"(We were) just really busy. A lot of disorderlies and calls for service, but nothing too major," she said.
Ann Arbor police Lt. Renee Bush said in an email early Sunday morning that an exact number for code violation tickets written by officers from 8 a.m. Saturday through 1 a.m. Sunday wasn't available. She said there were a lot of code violations written by police.
Police did respond to a fight in the 800 block of East University Avenue but details on the incident were not immediately available. McCarthy said the officer's report on the fight was not finished.
U-M police sent out a crime alert Sunday afternoon regarding an unarmed robbery just off campus that is being investigated by Ann Arbor police.
Ann Arbor firefighters responded to a couch fire in the city as well, but police did not have more information. A call to the Ann Arbor Fire Department was not immediately returned.
Huron Valley Ambulance spokeswoman Joyce Williams said the majority of ambulance requests in Ann Arbor on Saturday were for intoxicated people. There were a variety of calls inside Michigan Stadium during the game as well, but Williams said it was all to be expected.
"For a night game of this importance, being the last Notre Dame game for however long it is, (it was very normal)," she said.
Kyle Feldscher covers cops and courts for AnnArbor.com. He can be reached at kylefeldscher@annarbor.com or you can follow him on Twitter.