Posted on
Tue, Dec 13, 2011 : 4:44 p.m.
Defense to question accused killer Gregory Noack's confession at January hearing
By Kyle Feldscher
Accused killer Gregory Noack will return to court in January for a hearing on evidence and several motions the defense plans to file, a judge ruled Thursday.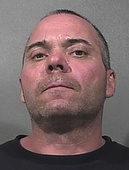 Prosecutors say Noack killed his girlfriend Dawn Fital in June after she denied him sex at their Arbor Knoll apartment in Pittsfield Township. At a preliminary exam in October, Washtenaw County prosecutors played a video of Noack telling police that he choked Fital to death before fleeing the state with her body.
Noack will return to court at 9 a.m. Jan. 27 for a Walker hearing, which will be used to determine how voluntary his confession to police was when he was arrested.
Fital and Noack had been having some relationship troubles in the weeks preceding her death, including when Fital broke up with Noack on a phone call from Las Vegas, where she was participating in a pool tournament. The couple reconciled in early June, but Noack told police he snapped on June 13.
Noack told police during his confession that he climbed on top of Fital, wrapped duct tape around her face and mouth in a type of gag and choked her until she was dead. He then allegedly stuffed Fital's body into one of her ex-husband's suitcases, loaded it into her Chevrolet Blazer and — after a few stops — began driving west.
Eventually arriving in Merrillville, Ind., early on June 14, Noack allegedly dug a hole in a wooded area near a credit union where he intended to bury Fital's body after he had dismembered her. When he was arrested, he refused to tell police where he had stashed Fital's body, according to a video played at the exam.
Noack eventually led police to a retention pond behind the Toys 'R' Us location in Merrillville where Fital's body was found still in the suitcase submerged in the water.
At the preliminary exam, Washtenaw County Assistant Public Defender Christopher Renna disputed whether the information gained from police interviews was admissible. Renna said much of the valuable information came after Noack told police he didn't want to answer any more questions, which Renna said was a violation of Noack's Miranda rights.
It's expected that Renna will bring up these concerns about Noack's confession at the hearing in January.
Kyle Feldscher covers cops and courts for AnnArbor.com. He can be reached at kylefeldscher@annarbor.com or you can follow him on Twitter.