Posted on
Tue, Jul 30, 2013 : 4:18 p.m.
Air Force and U-M Police to assist AAPD in investigation of medical student's death
By Kyle Feldscher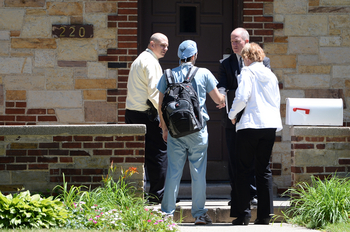 Investigators from the United States Air Force Office of Special Investigations and the University of Michigan Police Department will assist Ann Arbor police in the Paul DeWolf case.
Ann Arbor police Detective Lt. Robert Pfannes said in a statement DeWolf's death is still being investigated as a homicide. The investigators from the Air Force and U-M Police are assisting, and Ann Arbor detectives are still leading the case.
DeWolf was found dead on July 24 in his basement room at the Phi Rho Sigma medical fraternity in the 200 block of North Ingalls Street. He was killed by a single gunshot wound and police are investigating the incident as a homicide.
U-M Police spokeswoman Diane Brown said investigators from that department will do whatever they are asked by their Ann Arbor counterparts.
"They have asked for our help and we have willingly provided that," she said. "This investigation has a high priority for the University of Michigan police as well, as a member of our community was lost. We want to do everything we can to assist in solving this case."
She emphasized that this is an Ann Arbor case and U-M police are responding to any tasks Ann Arbor detectives ask them to complete.
DeWolf was a second lieutenant Air Force and a reservist. The Air Force was paying his way through medical school and the Schoolcraft, Mich., native was going to enter the service following graduation.
He was a 2010 graduate of Grand Valley State University.
He lived alone in a basement room in the Phi Rho Sigma house, where he had lived for almost three years, and other residents were home at the time of his death. The room did not appear out of order and nothing of value appeared to be stolen.
A colleague was sent to the home after DeWolf didn't show up for an assignment at the VA Ann Arbor Healthcare System on the morning of July 24. That colleague found him dead, and then called 911.
No firearm was found at the scene, according to police. An autopsy was performed Thursday,
DeWolf's funeral took place Monday in Portage, where family and friends remembered the prospective surgeon.
Police have not released any information regarding suspects at this time.
Anyone with information on DeWolf's death is asked to call the Ann Arbor police anonymous tip line at 734-794-6939 or Crime Stoppers at 1-800-SPEAK UP (773-2587).
Kyle Feldscher covers cops and courts for AnnArbor.com. He can be reached at kylefeldscher@annarbor.com or you can follow him on Twitter.