Posted on
Mon, Aug 13, 2012 : 10:36 a.m.
Alert neighbor interrupts home invasion, holds suspects until police arrive
By Cindy Heflin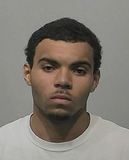 It was the best kind of neighborhood watch.
An Ypsilanti Township man who heard glass breaking Saturday night discovered two people who appeared to be in the process of burglarizing his neighbor's home and held them in the back yard until police arrived, Washtenaw County sheriff's deputies said.

The man was at his home in the 1400 block of Harry Street when he heard what sounded like glass breaking about 8:30 p.m., Washtenaw County sheriff's deputies said in a press release. He went to his neighbor's house across the street to check it out and found a man leaving the home through a window and another man standing by the patio door. He ordered them to sit, and they complied.
"He used his powers of persuasion to make sure they didn't go anywhere," said Sgt. Geoffrey Fox of the Washtenaw County Sheriff's Office.
Nothing appeared to have been taken and the men did not have any weapons, Fox said. The rear window had been broken with a brick, police said.
The suspects, Dezman Makowski-Smith, 18, and Donte Smith, 17, both of Ypsilanti, were arraigned Sunday on charges of home invasion and malicious destruction of property.