Posted on
Sun, Feb 17, 2013 : 5:57 a.m.
Court amnesty program on certain tickets will 'give the public a break'
By Kyle Feldscher
If you got a parking ticket in Chelsea or a speeding ticket in Ypsilanti Township sometime in 2011 and you're pretty sure there's a warrant for your arrest because you never paid up, don't worry.
No, seriously, don't worry. The 14A and 14B District Courts have your back.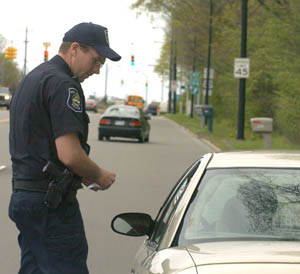 AnnArbor.com file photo
The courts will run an amnesty program through March and April, forgiving late fees and penalties on traffic and parking tickets before Dec. 31, 2011.
14A District Court Administrator Bob Ciolek said it's the first time the courts have run such a program. The program will run from March 1 to April 30. All penalties and late fees for unpaid traffic civil infractions and parking violations will be forgiven, aside from the $45 clearance fee for people whose driver's licenses have been suspended.
"We're trying to give them an opportunity to take care of any outstanding matters they may have and give the public a break in the tough economic times we're experiencing," Ciolek said.
The ticket must have been issued by an agency under the jurisdiction of the 14A District Courts or the 14B District Court in Ypsilanti Township. The amnesty program does not apply to any tickets issued in 2012 or 2013.
Ciolek said he pitched the idea to 14A District Court Chief Judge Kirk Tabbey and get it cleared by him and District Court Judge Richard Conlin. Both judges thought it to be a good idea, but Ciolek said it might be a special occurrence.
"It's not something, as a court, you want to run every year, every two years, every three years," he said. "If you're gonna do it on multiple occasions, they're going to be spaced out far, far apart."
The principle penalty on the tickets will still need to be paid, so no one will be getting away scot free on their traffic infractions. However, every financial penalty subsequent to the initial fines and costs will be waived, Ciolek said.
Ciolek brought the idea to the 14A District Court from his former job as a court administrator in Taylor. He said his court there ran an amnesty program and it generated revenue for the court.
"We ran one out there and it was very successful, giving people a break on tickets and generating revenue, that sort of thing," he said. "I liked the concept of the whole thing. I brought the idea here about a year or so ago."
It's a sort of win-win situation for everybody, Ciolek said. Not only will the public have fines and penalties waived if they pay their tickets, the courts will be able to clear many cases as they convert to a new filing system.
For more information on the program, call the 14A-1 District Court in Pittsfield Township at 734-973-4545, the 14A-2 District Court in Ypsilanti at 734-484-6690, the 14A-3 District Court in Chelsea at 734-475-8606, the 14A-4 District Court in Saline at 734-429-2504 or the 14B district Court in Ypsilanti Township at 734-483-1333.
Kyle Feldscher covers cops and courts for AnnArbor.com. He can be reached at kylefeldscher@annarbor.com or you can follow him on Twitter.