Posted on
Fri, Feb 1, 2013 : 4:47 p.m.
Ann Arbor man charged with 3 counts of thievery in 3 cases
By John Counts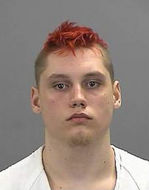 Courtesy of WCSO
Andrew Brian Mutschler, 18, was recently charged with various counts of thievery in three separate cases, Ann Arbor police said.
Mutschler has been charged with retail fraud, second-degree home invasion and larceny from a vehicle.
The retail fraud case dates back to November when he is accused of "brazenly" grabbing a large quantity of cigarettes from a gas station in the 2000 block of West Stadium Boulevard, said Ann Arbor police Lt. Robert Pfannes.
Police say Mutschler entered the store sometime before 1:29 a.m., loaded up on cigarettes right in front of the clerk and fled on foot. He is charged with third-degree retail fraud for the incident.
Mutschler also is accused of breaking into a house around the holidays.
Police were dispatched to a home in the 700 block of North Fourth Avenue the afternoon of Dec. 20. A back door was kicked in while no one was home and the house was ransacked, Pfannes said.
There were multiple items stacked by the door ready to be carted out, but police believe something caused Mutschler to flee before taking anything,
In the third incident, Mutschler was arrested Jan. 13 for a allegedly stealing an iPod from a car in the parking structure at 500 E. Washington St. Pfannes said the victim witnessed someone in the vehicle and gave police a description that matched Mutschler's appearance.
Undercover plainclothes officers found and arrested Mutschler in Liberty Park Plaza. The victim's iPod also was recovered.
Mutschler was arraigned on the three charges at various times from the Washtenaw County Jail since his arrest, court records indicate.
He remains in jail on various bonds: 10 percent of $1,000 for the larceny charge, $1,000 cash for the retail fraud charge and 10 percent of $10,000 for the home invasion charged. He is set to appear in court on Feb. 7.

View Mutschler alleged crimes in a larger map
John Counts covers cops and courts for AnnArbor.com. He can be reached at johncounts@annarbor.com or you can follow him on Twitter.