Posted on
Tue, Apr 2, 2013 : 10:25 a.m.
Ann Arbor man accused of biting 2 men during fight
By John Counts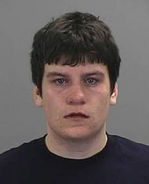 Courtesy of the WCSO
An 18-year-old Ann Arbor man accused of biting two men was arraigned on assault charges Monday, court records show.
James Badalamenti was arraigned on charges of assault with intent to maim and two counts of aggravated assault after fighting with two acquaintances early Sunday morning, Ann Arbor police said.
"He got into a fight with two individuals," said Sgt. Earle Fox. "He ended up biting both subjects."
Officers were called to a residence in the 900 block of Oakland Avenue at 3:49 a.m. Sunday after receiving reports of the fight. None of the men lived at the residence, but did know each other before the bitings, Fox said.
Badalamenti was arguing with two 19-year-old Ann Arbor men at a house when police say he bit the ear of one man and the face of the other. The 19-year-old with the bitten ear had "pretty significant damage," Fox said, The face bite was minor, he said.
The men were not taken to the hospital, but did seek medical treatment on their own after the incident, police said.
Badalamenti was not at the residence when police arrived. Officers found him a short time later in the area and he was arrested without incident, Fox said. He did appear to have been drinking, Fox added.
Badalamenti was given a 10 percent of $20,000 bond at his arraignment. He is free on bond, according to jail records.
A preliminary examination is scheduled for April 11.
John Counts covers cops and courts for AnnArbor.com. He can be reached at johncounts@annarbor.com or you can follow him on Twitter.