Ann Arbor man charged in multiple home invasions
Posted on Sun, Mar 17, 2013 : 4:14 p.m.
An Ann Arbor man is accused of committing multiple home invasions after being released on bond in another case last year, court records show.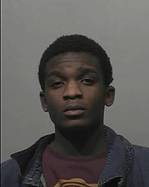 Courtesy of WCSO
Javare Holmes, 19, was arraigned last week on five charges of first-degree home invasion and a charge each of second-degree home invasion, larceny in a building and receiving and concealing stolen property worth $1,000 to $20,000, court records show.
Ann Arbor Police detective Katie Nucci said Holmes broke into multiple homes in the Dicken and Lawton neighborhoods in Ann Arbor.
He's also a suspect in home invasions in Pittsfield Township and the jurisdiction of the Washtenaw County Sheriff's Office, Nucci said.
"He hit multiple homes in Ann Arbor, Pittsfield Township and Washtenaw County," Nucci said. "His M.O. was he was looking for open garage doors, like the main garage door, and any rear door that was unlocked."
Holmes was arraigned on first-degree home invasion and assaulting, resisting and obstructing a police officer on May 17, records show. Magistrate Thomas Truesdell gave Holmes a 10 percent of $2,000 bond, according to court records.
Holmes stayed in the Washtenaw County Jail until May 23, when he was freed on bond. He showed up to a preliminary exam the next day but then failed to appear for a pretrial hearing on July 2. A bench warrant was issued for his arrest, records show.
Nucci said Holmes committed the latest home invasions after he was freed on bond.
Detective Lt. Robert Pfannes said a search warrant was served in the case before Holmes was arrested. Washtenaw County Sheriff's Office Sgt. Geoffrey Fox said he wasn't aware of an investigation into Holmes by sheriff's deputies.
Pittsfield Township Deputy Police Chief Gordy Schick confirmed that Holmes is a suspect in at least three home invasions there. Charges on those cases have been submitted to the Washtenaw County Prosecutor's Office.
"We are working in conjunction with the Ann Arbor Police Department," Shick said, "and we believe Mr. Holmes is responsible for at least three more home invasions connected to Pittsfield Township."
Holmes is scheduled to face a pretrial exam in the May case at 1:30 p.m. Monday. Fox confirmed his preliminary exam in the latest case is scheduled to be held at 8:30 a.m. Thursday.
He's being held in the Washtenaw County Jail on a 10 percent $50,000 bond, according to jail records.