Posted on
Sat, Feb 23, 2013 : 3:30 p.m.
Ann Arbor man accused of having sex with girl in elevator before lighting it on fire takes plea deal
By John Counts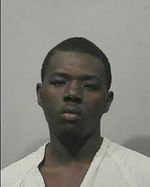 Courtesy of the Washtenaw County Jail
The 23-year-old Ann Arbor man who police say lit a fire in a parking structure elevator after having sex with a 14-year-old girl pleaded guilty to arson and sexual assault charges Thursday.
Darion Cole-Hickonbottom will spend between 34-67 months in prison, according to a plea deal struck before Judge David Swartz in the Washtenaw County Trial Court.
A charge of larceny from a vehicle had previously been dismissed, attorneys said. Three counts of third-degree CSC will be dismissed at the time of sentencing. In exchange for the dismissal of those charges, Cole-Hickonbottom pleaded guilty to three added counts of CSC, assault with intent to penetrate.
Sentencing is scheduled for March 14.
Police say Cole-Hickonbottom and the 14-year-old girl first stole an Xbox controller and clothing from vehicles parked inside the University of Michigan structure on South Forest Avenue on July 22.
Cole-Hickonbottom and the girl then made their way to the parking structure on Church Street, where they allegedly had sex inside the elevator, police said. While still in the elevator, Cole-Hickonbottom started a fire on the floor using cardboard and at least one of the items of clothing taken from a vehicle, according to police.
U-M police received a call from Cole-Hickonbottom from the emergency phone at the Church Street parking structure at 6:22 a.m. Police soon decided he was the likely suspect in the arson that burned the elevator cab, causing around $3,000 worth of damage.
The other two CSC counts Cole-Hickonbottom pleaded guilty to stem from sexual incidents that took place with the 14-year-old girl between July 20 and 22 at Veterans Memorial Park in Ann Arbor, police said.
Cole-Hickonbottom remains in the Washtenaw County Jail on a $250,000 cash bond.
John Counts covers cops and courts for AnnArbor.com. He can be reached at johncounts@annarbor.com or you can follow him on Twitter.