Posted on
Thu, Oct 4, 2012 : 2:59 p.m.
Man accused of breaking into apartment, raping sleeping woman in Ann Arbor
By Kyle Feldscher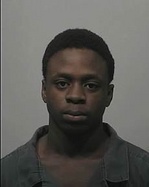 Courtesy of Washtenaw County Sheriff's Office
An Ann Arbor man is being held on a $125,000 bond on charges related to two home invasions, including one in which he is accused of
breaking into a home and raping
a woman who was asleep in her bed.
Marcus Dewayne Wilson, 18, is facing one charge of first-degree criminal sexual conduct, one charge of first-degree home invasion and one charge of second degree home invasion.
Police said Wilson broke into an apartment in the 1200 block of Oakland Avenue July 3 of this year and raped a woman who was home alone, sleeping in her bed.
"This is an especially heinous crime," said Dan Iverson, the detective from the Ann Arbor Police Department who investigated the incident.
The July incident occurred at approximately 1 a.m., according to a police statement released by Detective Lt. Robert Pfannes Thursday. The woman Wilson is accused of raping was the only person who lived in the apartment and was sleeping in her bed during the break-in, police said.
The statement alleges Wilson "used force to overcome the victim's resistance and sexually assaulted her" before fleeing on foot. Wilson and the woman were total strangers, police said.
"This was a nightmarish ... crime," Pfannes said.
The incident resulted in the University of Michigan Department of Public Safety sending out a crime alert after it was reported.
Initial reports from police indicated a witness stopped the assault. The statement released Thursday made no mention of such an intervention.
After he was assigned the case, Iverson noticed similarities between the July 3 home invasion and another one on June 19 in the 700 block of South Forest Avenue. The home invasion in June did not result in anyone being assaulted, but Wilson is accused of entering the residence with the intent to commit a larceny.
Officer Rob Schneider assisted in the investigation by collecting evidence that eventually identified Wilson as a possible suspect. Iverson and Detectives Dave Monroe and Gerald Tacey "were able to definitively tie Wilson into the home invasion/sexual assault," according to the statement.
Wilson was located at the Washtenaw County Jail, where he is serving jail time after being sentenced in August for unlawfully driving away an automobile. According to state records, Wilson was going to be discharged from state supervision in August 2014.
During his arraignment in front of Magistrate Thomas Truesdell Thursday, Wilson didn't say much, only answering yes or no to Truesdell's questions. Wilson lived with his family, is single and has no children, he said.
Truesdell appointed the Washtenaw County Public Defender's Office to represent him.
Iverson asked for a $100,000 cash bond for the July 3 incident. Truesdell granted that request and added a $25,000 bond for the June 19 incident. Iverson said Wilson, despite the fact that he's currently staying at the jail and has been cooperative during the investigation, could flee the area in the face of the new charges.
"He's been cooperative," Iverson said. "We believe he is a flight risk because it is a capital crime."
Kyle Feldscher covers cops and courts for AnnArbor.com. He can be reached at kylefeldscher@annarbor.com or you can follow him on Twitter.