Posted on
Sat, May 19, 2012 : 5:58 a.m.
Ann Arbor man faces life in prison for allegedly providing heroin that caused coach's death
By Kyle Feldscher
A 22-year-old Ann Arbor man faces life in prison for allegedly supplying the heroin that led to the overdose death of a Father Gabriel Richard High School hockey coach.
Brendan Lathrop is charged with delivery of a controlled substance causing death and delivery of a controlled substance less than 50 grams, according to court records. He's facing trial on the charges after a preliminary exam last week, records show.
Lathrop is accused of providing the drugs that led to the death of Nick Belanger, 26, in January, according to police. Belanger was found dead in his car outside of Lathrop's residence in the Park Place Apartments on Jan. 22, police said.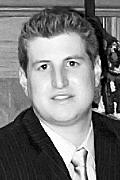 Courtesy of MLive
Lathrop was arraigned on the charges on April 13. He was originally given a 10 percent of $5,000 bond but tested positive for drugs while on bond, records show. He's now lodged at the Washtenaw County Jail after having his bond revoked, according to records.
Van Belanger, Nick Belanger's father, said his family has been devastated by his son' death. Van Belanger said his son was not a drug addict and had never used heroin before the night he died.
He said his son was the type of person who always worked to brighten people's days, especially when they were feeling down.
"Nick was a wonderful, giving young man," Van Belanger said. "He was always very thoughtful and caring about other folks."
"That's who Nick was," he added. "We're at a loss for words."
Van Belanger declined comment on the case against Lathrop, other than saying the full story of his son's death would come out during the court proceedings.
Belanger was a 2004 graduate of Saline High School, according to an obituary. He helped coach Gabriel Richard's hockey team to the school's first ever Catholic League Championship, the obituary stated.
The almost-three month investigation was contingent on toxicology reports from the Washtenaw County Medical Examiner's Office, police said. Investigators also had to locate Lathrop, who had left the area following Belanger's death, police said.
Lathrop is scheduled for a pretrial hearing at 1:30 p.m. June 12 in front of Washtenaw County Trial Court Judge Donald Shelton, according to court records.
Kyle Feldscher covers cops and courts for AnnArbor.com. He can be reached at kylefeldscher@annarbor.com or you can follow him on Twitter.