Posted on
Wed, Jan 11, 2012 : 4:05 p.m.
Ann Arbor man sentenced to 6 months in jail for possessing child porn
By Kyle Feldscher
An Ann Arbor man will serve six months in jail and three years on probation after pleading guilty child pornography charges, a Washtenaw County judge ruled Tuesday.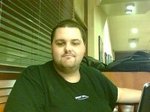 Courtesy of Facebook
Washtenaw County Trial Court
Judge
Donald Shelton
sentenced
Surric Hayes
, who was 28 when he was charged, to the Washtenaw County Jail Tuesday afternoon. Hayes pleaded guilty late last year to the four counts of possessing child pornography.
Ann Arbor police said a man found the child porn on Hayes' computer and contacted the Saline Police Department. After discovering that the crime had been committed in Ann Arbor, Saline police turned the computer over to Ann Arbor police, who found a number of pornographic images of children on it, according to police.
According to the terms of probation laid out by Shelton, Hayes is prohibited from owning or using a computer that is able to access the Internet without the consent of his probation officer, cannot live near anyone under the age of 17, may not have contact with anyone under 17 and must seek sexual offender treatment.
Hayes must also pay $1,820 in court and attorney costs as a part of his probation at $200 per month, Shelton ruled.
Hayes declined to make any comment to Shelton during his sentencing hearing.
Kyle Feldscher covers cops and courts for AnnArbor.com. He can be reached at kylefeldscher@annarbor.com or you can follow him on Twitter.