Posted on
Thu, Apr 4, 2013 : 3:47 p.m.
Ann Arbor man suspected in 17 break-ins has 3 cases bound over to circuit court
By John Counts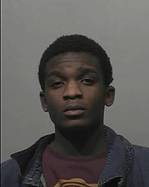 Courtesy of WCSO
The 18-year-old man accused of breaking into houses and cars throughout the Ann Arbor area while out on bond had three of the cases bound over to circuit court Tuesday, records indicate.
Javare Holmes waived his preliminary examination in district court and stood mute on three charges of first-degree home invasion. A pretrial hearing was scheduled in the Washtenaw County Trial Court for April 15, according to court records.
The three separate cases are related to home invasions in Pittsfield Township.
In total, Holmes is a suspect in 17 cases across the county: nine home invasions from Ann Arbor, three in Pittsfield Township, two in the Washtenaw County Sheriff's Office jurisdiction, two larcenies from vehicles in the sheriff's office jurisdiction and a larceny from a building in Ann Arbor.
Police say Holmes worked with others to break into the homes and vehicles while free on bond after being arrested and arraigned on similar charges in May 2012. AnnArbor.com has reported Holmes was arraigned on charges of first-degree home invasion and assaulting, resisting and obstructing police and given a $2,000 bond. He bonded out of jail six days after his arraignment.
Among the items Hamilton is suspected of stealing from homes and cars while free on that bond are guitars, violins, computers, televisions, GPS units, cellphones, watches, laptops and digital cameras, police said.
Holmes is now being held at the Washtenaw County Jail on a $10,000 cash or surety bond, according to jail records.
John Counts covers cops and courts for AnnArbor.com. He can be reached at johncounts@annarbor.com or you can follow him on Twitter.