Posted on
Mon, Feb 27, 2012 : 5:55 a.m.
Ann Arbor police chief on still-at-large serial rapist: 'We're still living this case'
By Kyle Feldscher
It's been more than five months since the last sexual assault believed to be related to the so-called "Ann Arbor rapist" and police have yet to capture the man who made national news this past summer.
However, Ann Arbor Police Chief Barnett Jones said the department is still immersed in the case.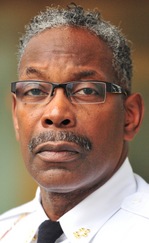 "We're still living this case," Jones said. "We're still living this case because this is someone who brought fear to our community, more fear to our community than I experienced in this community in the last six years."
There were seven sexual assaults on women in Ann Arbor starting in July and continuing through mid-September that were believed to have been committed by the same person. Police received more than 600 tips, and Jones said each and every one of them was followed up on.
Jones said the chance for an arrest is at its highest when the suspect is active and committing crimes, but the department obviously doesn't want him to be creating more victims. The best-case scenario is if police catch him in a time when he's not active, Jones said.
There were many moments when Jones and Lt. Renee Bush, the department's spokeswoman who was very involved in the investigation, would accompany detectives while they checked out a tip and hoped they had found their suspect, he said.
"Some of the tips took us 40 miles from here, and you ring a doorbell … and the person that opened the door looked very similar to both of those sketches, you're like, 'All right we got him!'" Jones said. "But, we talk to them and we get their information and we do a follow-up only to find out that it was not the person."
Sketches of the suspect are still posted all over the "hot sheets" police pass out at their weekly briefings and can be found in the lobby area of the police department. Jones said every sex crime that comes into the police department is immediately checked against reports of the seven sex assaults from last summer to find similarities.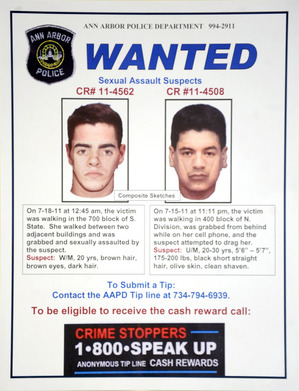 Jones noted that there were several copycat sexual assaults on women in the area after the series of sexual assaults, and arrests were made in all of those cases. However, Jones ruled out any of those suspects, including Jeremy Bolen, who was arrested and convicted of sexually assaulting a woman on Sept. 26.
The length of time since the last attack doesn't mean the man has moved out of the area or city residents can let their guard down, Jones said.
"Don't just assume that because this person is not in the newspaper that this person is not out there," he said, "or that this person is not in the newspaper so this person may have moved. We're still on guard and we're still looking for him."
Jones and Bush both say that when residents go out on foot after dark in Ann Arbor, they should walk with a partner. Bush said those on foot during the late night and early morning hours, the times when the serial rapist tended to strike, should know the areas they're walking to and keep their eyes and ears open.
Bush said police want to catch the suspect before he strikes again, but they need help from community members.
"The community is our best eyes and ears," she said. "We rely upon them as much as they rely upon us to do our jobs."
Both Ann Arbor and University of Michigan police upped patrols in the State Street area, where most of the sexual assaults occurred, but Jones and Bush were reluctant to say how much that affected the sudden end of the string of sexual assaults. Bush said she'd like to ask those types of questions to the suspect face to face after he is arrested.
Although police circulated a wanted poster for two suspects, Jones has previously stated that police believe they're only looking for one man.
The man is described as a white male, about 20 years old, with brown hair and brown eyes. Anyone with information is encouraged to call 1-800-SPEAK UP (773-2587). There is still a $1,000 award for information leading to an arrest.
Kyle Feldscher covers cops and courts for AnnArbor.com. He can be reached at kylefeldscher@annarbor.com or you can follow him on Twitter.