Posted on
Mon, Aug 15, 2011 : 9:59 a.m.
Police responding to 2 reports of bank robberies
By Paula Gardner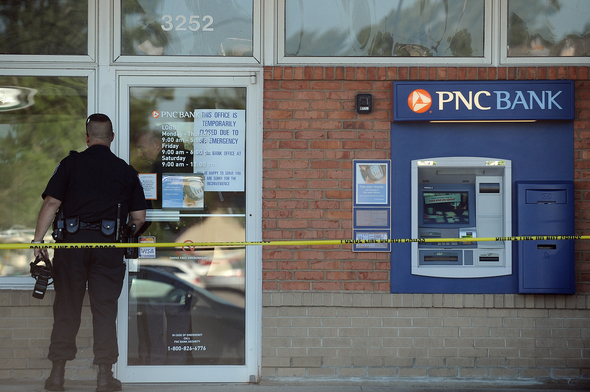 Melanie Maxwell | AnnArbor.com
Authorities are investigating two bank robberies in a roughly 20-minute span Monday.
About 9:56 a.m., Ann Arbor police responded to the PNC Bank at 3250 Washtenaw, where a man walked inside, implied he had a weapon and passed a note to a teller, demanding money, Lt. Mark St. Amour said. The man fled with an undisclosed amount of cash, St. Amour said.
According to a dispatch at 10:03 a.m., the man may have driven away in a blue Grand Prix or Grand Am. He may have been traveling eastbound on Washtenaw, dispatchers said. The bank is at the corner of Huron Parkway, about 1/2-mile west of US-23.
The robber was described as black, wearing a black and purple plaid shirt and sunglasses. He also had dreadlocks, according to police, and was believed to have been traveling alone.
In the second incident, which appears to have been reported at about 10:15 a.m., Washtenaw County Sheriff's deputies were responding to a report of a bank robbery at Bank of America, 2250 W. Michigan in Ypsilanti Township.
Police dispatchers alerted officers that three suspects were sought, two men and a woman. At least one wore a mask during the robbery, according to dispatchers.
That bank is located at Michigan Avenue and Hewitt, just south of the Walmart-anchored shopping center on Ellsworth. Police were alerted that a vehicle believed to have been connected to the suspects had been located behind the store. Sheriff's department spokesman Derrick Jackson could not be reached for comment.
St. Amour said there's no indication the robberies are related.
Staff reporter Lee Higgins contributed to this report.