Posted on
Fri, Mar 15, 2013 : 12:30 p.m.
Rash of thefts from vehicles prompts warning from Ann Arbor police
By Kyle Feldscher
A recent uptick in thefts from vehicles on the south side of Ann Arbor concerned police enough to send out a crime alert this week.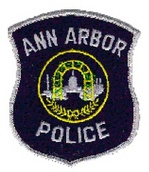 Courtesy of Ann Arbor police
Ann Arbor police Lt. Renee Bush said there were 23 larcenies from vehicles in Jan., 27 in February and 14 so far in March. She said that's an increase from prior years and most of the incidents occurred in the Eisenhower Boardwalk area in February. In many of the cases, thieves smashed windows to steal items from the vehicles.
"That's primarily in March," she said. "In January and February, it was through unlocked doors."
While the crime alert indicated the break-ins were mostly reported on the city's south side, Bush said there have been larcenies reported throughout the city.
Detective Lt. Robert Pfannes said the suspect, or suspects, has been walking through parking lots during the daytime hours and looking in vehicles' windows until he or she finds an item of value in plain sight. The person then either opens an unlocked door or smashes the window to take the purse, phone or other item.
The crimes share similarities with a recent rash of larcenies from vehicles in Saline.
Police there reported eight vehicles have been broken into in Saline since Jan. 21, mostly along Woodland Drive and East Michigan Avenue. However, Detective Don Lupi said police haven't found a connection between those thefts and the ones in Ann Arbor.
"I worked with the Ann Arbor Police Department on theirs and I don't see a connection," Lupi said, adding he thinks the Saline thefts are the work of local residents.
Although the incidents have been widespread in Ann Arbor, it doesn't seem as if the break-ins have bled into Pittsfield Township.
Pittsfield Township Deputy Police Chief Gordy Schick said someone recently stole a gun from a vehicle. However, the incident doesn't appear connected to a larger trend.
"Luckily, we haven't had anything like that," he said.
Ann Arbor police officials are now warning citizens to take proper measures to keep themselves from becoming victims.
Bush said the best way to keep an intruder out of your vehicle is to keep anything of value hidden.
"Keep your doors locked. Don't leave valuables that you can see through the windows," she said. "Hide your valuables or take them with you and make sure you're parking in well-lit spots."
Here's a map showing the locations of vehicle break-ins around Ann Arbor this year:

View 2013 Ann Arbor Auto Larcenies in a larger map
Kyle Feldscher covers cops and courts for AnnArbor.com. He can be reached at kylefeldscher@annarbor.com or you can follow him on Twitter.