Posted on
Sat, Mar 10, 2012 : 5:59 a.m.
Ann Arbor police say city's seeing sudden decline in break-ins
By Kyle Feldscher
After an initial spate of home invasions to start the year, Ann Arbor police have reported a significant drop off in break-ins during the last three weeks.
According to CrimeMapping.com, Ann Arbor police have worked on 19 reported home invasions in the period from Feb. 16 to Friday.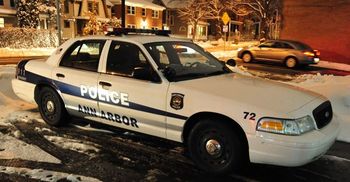 Ryan J. Stanton | AnnArbor.com
That compares to 40 home invasions during the prior three-week period, according to CrimeMapping.com.
According to Ann Arbor police statistics, there were 82 home invasions reported between the beginning of the year and Feb. 18.
Deputy Chief John Seto said the decrease can partly be attributed to area residents taking more precautions after the wave of break-ins earlier this year.
"The public's awareness has been raised due to the community meeting and Neighborhood Watch notifications," Seto said.
"Citizens are more alert and reporting more suspicious activity, and more people calling police does have an impact on crime."
The number of home invasions in January and February contributed to the crime being committed at a higher rate through the first two months of the year than the same time period in 2011, 2010 or 2009, according to police.
According to police, 35 of the break-ins during the first two months of 2012 involved intruders sneaking into homes through unlocked doors and windows.
There were 49 home invasions and commercial burglaries in the first two months in both 2011 and 2010, according to police statistics.
City officials were concerned enough about the rise in break-ins to hold a community meeting that drew about 150 people and send out neighborhood watch notifications.
However, the break-in wave seems to have crested and broken for the time being.
While the break-ins during January and February were spread out citywide, CrimeMapping.com indicates that the city's north side has been relatively spared during the last three weeks. There has been just one reported home invasion in that area since Feb. 16, according to the website.
Most of the recent break-ins have been reported in central and southeastern Ann Arbor, according to CrimeMapping.com.
To get updates from CrimeMapping.com, click here and click Receive Crime Alerts.
Police have still made just one arrest, which came early on in the investigation into the break-ins, but Seto believes a more prepared citizenry is making it harder for the crimes to be committed. He said the coordination between police and community has been key.
Seto takes over from Chief Barnett Jones as the interim police chief on April 1 after Jones announced his retirement last month.
Police still believe they are looking at a small number of suspects in the break-ins and are still investigating all of the cases, Seto said.
"We'll continue to work hard within the department and investigate these cases," he said.
Kyle Feldscher covers cops and courts for AnnArbor.com. He can be reached at kylefeldscher@annarbor.com or you can follow him on Twitter.