Posted on
Sat, Sep 22, 2012 : 11:20 a.m.
Ann Arbor woman and boyfriend accused of stabbing neighbor
By John Counts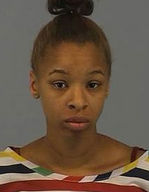 Courtesy of the WCSO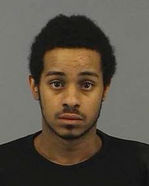 Courtesy of WCSO
A woman has been charged in the same Ann Arbor stabbing incident as her boyfriend.
Courtney Shanae McCoy, 21, is the second suspect charged. McCoy and her boyfriend, Dorian Ashton Johnson, 21, of Detroit, face the same six counts including a charge of assault with intent to murder.
Police said the couple stabbed McCoy's neighbor over a minor dispute in the hallway of an apartment building in the 400 block of South First Street in the early hours of Sept. 9.
Ann Arbor police Det. William Stanford said the victim, a 22-year-old Ann Arbor man, lived across the hall from McCoy.
"She got her boyfriend to the apartment and conspired to attack the victim," he said.
The couple is accused of knocking on the victim's door after 3 a.m., waking him up, getting him out into the hallway and stabbing him.
Stanford said McCoy was upset about a "minor disagreement" that occurred a month earlier. Police did not want to release the nature of the disagreement at this time.
The severely wounded victim made it up to the BP gas station at Main and Williams where an attendant called 911 around 3:50 a.m., police said. The man was in the intensive care unit at the University of Michigan Hospital after undergoing surgeries for his wounds. He has since been released from the hospital, police said.
McCoy was arraigned on Sept. 14 from the hospital, where she was taken after police arrested her because she is diabetic, Stanford said. Her bond was set at $25,000 cash or surety. Her preliminary examination is scheduled for Sept. 27. Her booking photo was not available Friday afternoon.
Both McCoy and Johnson are charged with assault with intent to murder, conspiracy to commit an assault with intent to murder, possession of a dangerous weapon with unlawful intent, conspiracy to commit a crime with a dangerous weapon, assault with a dangerous weapon and conspiracy to commit an assault with a dangerous weapon.
Johnson waived his preliminary examination Thursday and is scheduled to appear in the Washtenaw County Trial Court for a pretrial hearing on Sept. 27. He remains in the county jail on a $20,000 cash or surety bond.
John Counts covers cops and courts for AnnArbor.com. He can be reached at johncounts@annarbor.com or you can follow him on Twitter.