Ann Arbor high school student pleads no contest to sexually assaulting 2 youths
Posted on Thu, Sep 27, 2012 : 2:20 p.m.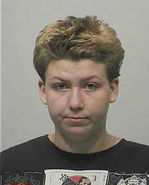 Courtesy of the WCSO
Editor's note: This story has been updated to include information from Ann Arbor Public Schools regarding the 18-year-old's school enrollment status.
An 18-year-old Ann Arbor high school student pleaded no contest in the 14A-1 District Court Thursday to two charges of sexual assault involving a 12-year-old girl and a 14-year-old boy.
Ashley Marie Thomas Poe is accused of sexually assaulting the youths, whom police described as "at risk."
"Both had a long history of being runaways," said Ann Arbor police Lt. Robert Pfannes.
Despite telling a magistrate she was a student at Ann Arbor Tech High School at her arraignment, Liz Margolis, director of communications for Ann Arbor Public Schools, said they don't have any record of Poe as a student of the district. This does not necessarily mean Poe wasn't a student at some time, however.
Court records indicate an offense date of July 14. Police did not want to go into the details of the case due to its sensitive nature, though Pfannes did say the victims were local. Since a no-contest plea is not an admission of guilt — though the court treats it as such for sentencing — the circumstances of the charges aren't revealed in open court.
Poe's preliminary examination was waived in court Thursday after the prosecution and defense struck a plea deal that will dismiss the three original charges at the time of sentencing. The charges that will be dismissed are third-degree criminal sexual conduct in which the victim is between the ages of 13 and 15, second-degree criminal sexual conduct during the commission of a felony and accosting a child for immoral purposes.
Poe pleaded no contest to two added counts of assault with intent to commit second-degree criminal sexual conduct, both five-year felonies. Part of the plea deal included a sentencing agreement, and the prosecution said that it would not pursue more than one year of incarceration and additional probation.
Poe is scheduled to be sentenced Nov. 7 in Judge Archie Brown's courtroom in the Washtenaw County Trial Court. She remains in the Washtenaw Count Jail on $15,000 cash or surety bond.