Posted on
Thu, Mar 1, 2012 : 5:57 a.m.
Getting the upper hand over a persistent telephone scammer
By Rich Kinsey
Things are going well as this mild winter is about give way to spring, when suddenly a call comes that rocks your world. Someone calls you and starts accusing you of some sort of crime or not paying something. The authoritative voice, perhaps with a foreign accent, is demanding that you make swift payment or there will be serious legal consequences.
The rude caller on the other end of the line is from some Federal law enforcement agency you have never heard of or some lofty law firm with a name like Dewey, Cheatem & Howe (actually The Three Stooges' fictitious law firm). Now he is demanding payment or there will be incarceration or steep legal bills to pay. He says it is up to you: swift payment or serious legal consequences.

Well the fact of the matter is that you have no clue what this jerk is talking about, and you have done nothing wrong. So in answer to his demands you tell him to, "go jump in the lake" — or some other more colorful or vulgar idiomatic expression. Hmmm that was odd, but at least you were able to nip it in the bud. With a confident smile and shake of the head you take a sip of your coffee and continue your day.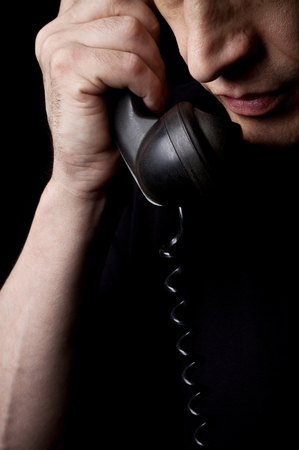 Bortn66 | Dreamstime.com
A few hours later you get a call from a close friend. That friend tells you about a call they received from some rude dude that was cranky and told them that they should warn you to pay up or you are going to be in big trouble. Your friend then asks, "Is everything okay?"
"Of course everything is okay. I got a similar call demanding payment this morning, and I have no idea what in the world is going on," you explain to your friend. This friend has been with you through thick and thin, and there are not many secrets between you. The friend was just concerned, and you are now both embarrassed and mad at the mystery caller.
A few minutes later, the kindly secretary from the boss's office drops down to your desk. She exchanges pleasantries and then, in a hushed tone, leans in and says, "Now dear, it is none of my business, and I have not said a word to Mr. Smedley, but I think you should probably pay off that little matter you have so they don't keep calling here. If you are a little short, perhaps I could persuade Mr. Smedley to give you a cash advance."
"No, no, no! I don't owe anyone anything! This is some scam. I got a call this morning and..."
"Well of course you did dear. I'm sorry if I embarrassed you. This will be our little secret." She gives you a maternal grin, pats your hand and walks away as you stammer, "But, but it's the truth. I don't owe anyone any money!"
You will be getting another call directing you to pay up and telling you how much and where to send the money. You are smart enough that you have already gone to the police and made a report about the scam.
Now you can tell the caller that any further queries about payment should be directed to Officer or Detective So-and-So at the Such-and-Such Police Department who would be happy to discuss the matter. Hopefully you will hear a loud "click" at the other end of the line.
You can also call your friend back and tell them to call you if they get another call from the rude dude. Have them document the date, time, what was said and the phone number, if captured.
Best of all you can head up to the boss's office and tell him and his condescending secretary, who found a little too much mirth in your misfortune, the same thing. Tell them you are working with the police to correct this matter, but you may need their help in documenting this.
You will then compile all the dates, times, dialogue and numbers from your acquaintances who have received the calls. You should then forward them to the officer in charge of the case.
Be forewarned that these are tough investigations with few arrests because these scams cross state and even international borders. The only chance law enforcement has is to compile enough information, figure out patterns and find the right jurisdiction to prosecute the case.
This particular scam has surfaced in the area. The information the thieves — or rather "blackmailers" or extortionists — possess about you, comes from applications you have filled out. Perhaps it came from a credit or loan application you filled out that was stolen or sold to the thieves. The numbers called by the scammers are your references and employers.
Guard your personal information. Be careful to whom you give information.
You have enough T-shirts, insulated can wrappers and tote bags. You do not need to give your valuable information to some temporary employee staffing a booth or tent enticing you with "free" stuff to fill out an application.
Do you really think that temp cares to keep your information safe? Applications can fall off the table, be grabbed by people reaching in the back of the booth or worse yet can be sold to thieves in order to pay for that dandy "free" T-shirt you are now sporting.
Lock it up, don't leave it unattended, be aware and watch out for your neighbors.
Rich Kinsey is a retired Ann Arbor police detective sergeant who now blogs about crime and safety for AnnArbor.com. He also serves as the Crime Stoppers coordinator for Washtenaw County.