with poll:

Area police: Welcome weekend for U-M students no wilder than expected

Posted on Tue, Sep 4, 2012 : 2:55 p.m.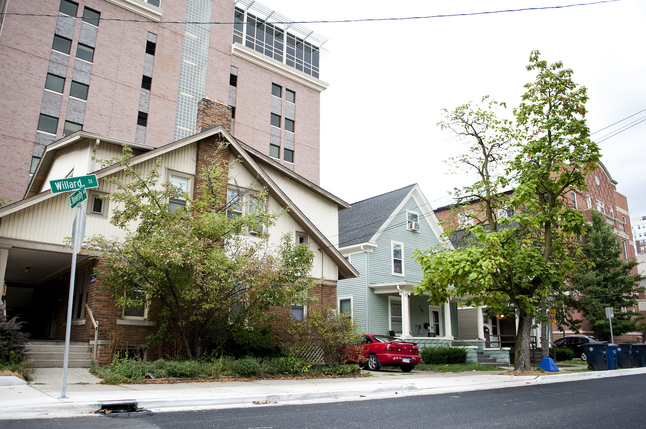 Daniel Brenner | AnnArbor.com
Despite a number of violent assaults reported in Ann Arbor, area police weren't particularly surprised at the amount of crime they had to deal with over the Labor Day weekend.
At least two women were arrested and six people were hospitalized after weekend assaults that coincided with the return of University of Michigan students in Ann Arbor. In Ypsilanti, the Eastern Michigan University crime log for the city of Ypsilanti listed seven assaults from Friday to Monday evening, including one man who reported being kicked in the chest by an unknown person.
In addition, police are looking for suspects in three separate sexual assault cases in which women reported being groped — one in the city of Ann Arbor and two that were reported on U-M's campus after a crime alert was sent out Monday morning.
Ann Arbor police Lt. Renee Bush said Friday police were preparing for an increase in criminal activity during the weekend. On Tuesday morning, she confirmed police in the city were every bit as busy as they expected to be. She wasn't able to immediately tell how this welcome weekend compared to past years.
"It was an unusually busy weekend," Bush said, comparing it to other weekends during the summer.
Things seemed to taper off Monday. Perhaps the beginning of classes for university and public schools students Tuesday morning played a part in Ann Arbor police not reporting any major incidents.
Diane Brown, U-M Department of Public Safety spokeswoman, said before the weekend that police would be upping patrols. She said police expect to write a higher than usual number of tickets for minor in possession of alcohol for the first two to three weeks of the school year. Also, the number of students being transported to the hospital due to intoxication is usually elevated during that period before campus life starts to settle down.
Her prediction held true: Eight students were cited for MIPs and nine intoxicated students were transported to U-M Hospital from Friday morning through Monday.
"It's always crazy (on welcome weekend)," she said.
The late-summer uptick in criminal activity around campus will result in a larger police presence from U-M officers for the first few weeks of the school year, Brown said.
"As scheduling can permit" more officers will be out on the weekends, Brown said.
It was a similar story in Ypsilanti, where Ypsilanti police reported responding to seven assaults as well as other alcohol-related incidents. On the EMU crime summary, campus police did not report responding to any assaults but cited three people for possessing marijuana and drug paraphernalia.
Sgt. Kent Overton, of the Ypsilanti police, said his department was busy but didn't deal with anything unexpected.
"Yeah, we were busier than usual … nothing out of the ordinary (for welcome weekend)," he said.
Eastern Michigan University Department of Public Safety Chief Bob Heighes did not return a phone call from AnnArbor.com Tuesday.
Police are still searching for suspects in a number of the Ann Arbor assaults. Two women accused of attacking a 45-year-old Whitmore Lake man in an alley off Willard Street are the only ones to be arrested so far. The women are accused of hitting the man with a shovel, bucket, bottle and broom before attempting to flee the area in a Ford Escape.
Police said they stopped the vehicle and arrested the women, both of whom are from Ypsilanti. One is 24 and the other is 26. Charges had not been filed against the women as of Tuesday morning.
Anyone with information on these incidents is encouraged to call Crime Stoppers at 1-800 SPEAK UP (773-2587)