Posted on
Tue, Jun 5, 2012 : 1:05 p.m.
Asian carp sting: Suspect accused of selling invasive fish
By Cindy Heflin
An Arkansas man faces 12 felony charges after he was accused of selling live Asian carp, an invasive species, to undercover officers in Midland, MLive reported.
The man, David Shane Costner, 42, of Harrisburg, Ark., brought 110 grass carp into the state, according to the state attorney general's office and Department of Natural Resources.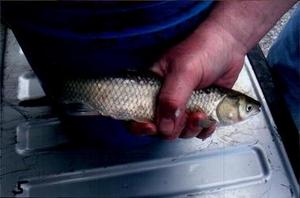 Courtesy photo
The state said he was selling the fish out of his truck in store parking lots around the state.
Costner is charged with 10 counts of possessing an illegal species and two counts of selling an illegal species. Each carries a maximum sentence of two years in prison and a fine of $2,000 to $20,000
Grass carp have the potential to eat all vegetation from a body of water, putting native species at risk.
Grass carp are among four species of Asian carp that infested U.S. waterways after being imported decades ago to clear algae from fish ponds and sewage treatment lagoons.
Two other Asian varieties — bighead and silver carp — have migrated up the Mississippi and Illinois rivers and are poised to invade the Great Lakes, where scientists say they could out-compete native fish for food. The federal government has spent more than $100 million on an electric barrier and other steps to keep them out.