Posted on
Tue, Nov 27, 2012 : 4:10 p.m.
Aspiring rapper arrested in Washtenaw County, accused of driving school bus stolen in west Michigan
By Kyle Feldscher
A man from Michigan's west side might have some jailhouse cred to rap about after his arrest last week, WDIV reported.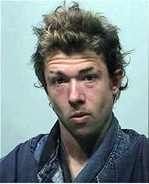 WDIV photo
Josiah Daniel Curtis, 25, was arrested on Thanksgiving Day on Interstate 94 at Zeeb Road, the station reported. He is accused of stealing a school bus from a Kent County bus yard in Wyoming and heading east toward Detroit, where he intended to start a rap career, according to the report.
The bus was swerving and speeding as it headed east on I-94, the station reported.
Police said Curtis crashed several buses into a loading dock and fence before taking one from the bus yard, Wood TV reported.
Curtis is being held in the Washtenaw County Jail on charges of receiving and concealing a motor vehicle, according to jail records. He's being held on a $25,000 bond, records show. His next court date is Dec. 4.