Posted on
Wed, Oct 5, 2011 : 5:12 p.m.
Man charged in ATM robberies in Pittsfield Township held on $150,000 bond
By Lee Higgins
A man accused of committing two robberies at ATMs in Pittsfield Township over the weekend and an attempted robbery Monday at an ATM in Saline is being held on a $150,000 cash or surety bond.
Brentson Charles McIntire, 30, of Saline Township, was arraigned this afternoon at the Washtenaw County Jail on a charge of attempted robbery and two counts of armed robbery.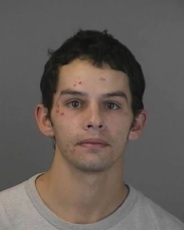 Pittsfield Township police said McIntire robbed a man Saturday night at the Chase Bank ATM at 6957 East Michigan Ave. and a man Sunday night at the Chase Bank ATM at 4101 Ellsworth Road. Both victims were in their cars at the time, police said.
Investigators said McIntire was arrested Monday as he was preparing to rob a customer an an ATM at United Bank and Trust on North Maple Road in Saline. Officers responded to the bank about 7:30 p.m. after receiving a credible tip. As an officer approached McIntire, he ran, police said, ditching a BB pistol and mask in a wooded area nearby.
Police said they lost sight of McIntire, who got into a car being driven by a family member. Saline police located the car along Austin Road and took McIntire into custody, Pittsfield Township Deputy Police Chief Gordy Schick said. McIntire's relative was not involved in the attempted robbery, Schick said.
Pittsfield Township police detectives assisted with Monday's arrest. Detectives were on heightened alert because of the two robberies at ATMs in the township over the weekend and were conducting surveillance on several ATMs Monday night.
As McIntire was being interviewed Monday, he led investigators to the BB gun and mask, Schick said. The BB gun is believed to have been used in both robberies in Pittsfield Township, and the mask is believed to have been worn during Saturday's robbery in the township, police said.
At today's arraignment, McIntire told Magistrate Camille Horne that he is separated, has one child and works as a handyman in a Saline area mobile home community. He makes about $550 each month, he said.
McIntire is scheduled to return to court Oct. 13 for a preliminary hearing.
Lee Higgins covers crime and courts for AnnArbor.com. He can be reached by phone at (734) 623-2527 and email at leehiggins@annarbor.com.