Posted on
Wed, Aug 14, 2013 : 2:59 p.m.
Attorney charged with sexual assault no longer appointed to 15th District Court cases
By Kyle Feldscher
Ann Arbor defense attorney and former Downtown Development Authority member Nader Nassif is no longer representing clients at the 15th District Court, officials confirmed to AnnArbor.com this week.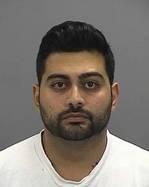 Courtesy of WCSO
The revelation came about as questions were raised about payment of $203,000 to Nassif's law firm approved by the Ann Arbor City Council in June for the fiscal year 2013, more than double the amount the court originally anticipated paying the firm for contracted services.
Keith Zeisloft, court administrator for the 15th District Court, said Tuesday the court stopped appointing Nassif to cases immediately after criminal charges were brought against him. Nassif is facing a single charge of third-degree criminal sexual conduct for an incident on July 31 at his apartment in the 200 block of South Fourth Avenue.
"From the moment what happened involving him, the court instantly stopped appointing him to cases," Zeisloft said Tuesday.
Nassif is accused of sexually assaulting a woman. The criminal complaint, obtained by AnnArbor.com through a request from the Washtenaw County Prosecutor's Office, reports Nassif knew or had a reason to know "that the victim was mentally incapacitated and/or physically helpless." Nassif has a preliminary exam scheduled for 8:30 a.m. Thursday at the 14A-1 District Court in Pittsfield Township.
It's unknown if Nassif is still employed by Model Cities Legal Services, the law firm contracted with the 15th District Court to provide defense for indigent clients. A call to Model Cities was not returned Tuesday.
Nassif was a partner in Model Cities. Nassif and Brant Funkhouser were the two attorneys who were listed on the city documents approving the amendment.
The accusations against Nassif came a little more than a month after a budget amendment paying his firm $203,000 that rankled some on the Ann Arbor City Council.
On June 17, the last City Council meeting before the end of fiscal year 2013, council members approved a payment of $203,000 to Model Cities. That amount was on top of the $180,000 already agreed upon for the law firm's services during the fiscal year.
Zeisloft said Model Cities, which has worked with the court for decades, held back from billing cases until officials were sure the law firm would no longer be providing services to the clients. Certain cases that could not be reliably billed were held back, sometimes for years, and the court did not become aware of those bills until late 2012, he said.
"Model Cities would hold those cases back until they reached the point in time where they would determine we're likely not to have to do any more work on this case," he said.
Billing practices vary by law firm, but Zeisloft couldn't firmly say if it's normal practice for firms to bill once cases are totally wrapped up.
The law firm eventually turned over timesheets and invoices to the court for payment in late 2012 after court officials asked how many cases they were sitting on, Zeisloft said.
"They had a reservoir of cases they did not bill," Zeisloft said, adding that cases such as domestic violence or drunken driving often end up with lawyers working with their clients far past their sentencing date.
"For billing purposes, we didn't know they existed," he said.
At the council meeting on June 17, 15th District Court Chief Judge Elizabeth Pollard Hines told council members the court had been under budget in nine of the past 11 years and returned almost $1.5 million to the city's general fund.
However, it appears one of the reasons the court was under budget was because Model Cities was not fully billing the court, said City Council member Sabra Briere.
Briere was one of several members of the city council who took court officials to task on June 17 for their finances. At the time, much of the discussion centered around raises given to court staff, but Briere said Tuesday the Model Cities contract amendment was not well received.
"They (court officials) did not put pressure on Model Cities to bring the billing cycle current, nor they did they document the potential debt to the city and say, 'This money is allocated by not yet spent,'" Briere said. "They could have done that, but they didn't."
She added, "what they did was come to us not providing an effective rationale for delay in the billing and not reserving the funds to meet the bill."
City Council member Sally Hart Petersen directly brought up the amendment at the June 17 meeting. She said Tuesday she wasn't aware of the history between the court and Model Cities before her time on council started in November, but the amendment to pay the law firm more than $200,000 left a bad taste in her mouth.
Petersen said council members were only made aware of the amendment on June 17. That left them little time to digest why hundreds of thousands of dollars were suddenly needed to pay a law firm that has been working with the 15th District Court for decades.
"My thinking was I better make a mental note of this because I don't want to see this happen again," she said, adding, "I thought it was unfortunate. It raised a flag."
The City Council unanimously approved the amendment, with City Council member Christopher Taylor abstaining because of a potential conflict of interest.
It's not an issue that will likely happen again — the contract approved for the fiscal year 2014 is a flat fee of $240,000 but Model Cities is still required to document the time it spends with clients to provide to city officials upon request. Zeisloft said this would keep overbilling from happening, while also saving court officials innumerable hours in cross-checking records.
It's not clear what cases Model Cities held back on billing or exactly how long it had been working some cases that it billed to the court. AnnArbor.com is in the process of attempting to get copies of invoices sent by Model Cities to the district court during the fiscal year 2013.
An official in Mayor John Hieftje's office directed questions on the amendment to the 15th District Court.
Briere said it's not unusual for the City Council to have to make budget adjustments late in the fiscal year. She said the adjustments in June usually end up being about $500,000.
The process "seemed like it was manipulative instead of straightforward" and Model Cities should have been up front with their billing process, which court officials should have been aware of, Briere said.
"The whole thing was poorly managed," she said.
Kyle Feldscher covers cops and courts for AnnArbor.com. He can be reached at kylefeldscher@annarbor.com or you can follow him on Twitter.