Posted on
Tue, Feb 12, 2013 : 6:15 p.m.
Blue Cab president: Driver denies sexual assault allegations, will not drive cab during investigation
By Kyle Feldscher
The president of Blue Cab said the driver accused of sexually assaulting a 23-year-old woman on Sunday will not be allowed to drive his cab during the investigation and denies the allegations.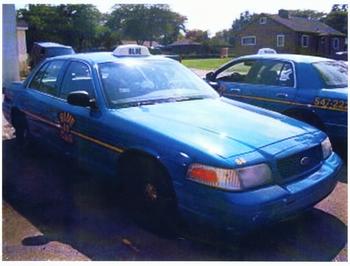 Courtesy of the city of Ann Arbor
John Etter released a statement Tuesday evening about the alleged sexual assault. He said a man called Blue Cab at 3:05 a.m. Sunday reporting one of the company's drivers "was grabbing his girlfriend's leg and trying to kiss her."
Etter said the man provided a license plate number and the company verified the car was a Blue Cab.
"The independent lessee driver of the vehicle was a City-licensed taxi driver," Etter said in the statement. "This licensing process involved both a criminal history check and a review of the driving records."
Etter said the driver began leasing a cab from the company in late January. Blue Cab had not received any complaints about the driver before Sunday.
The driver denied the allegations, Etter said. He will not be allowed to lease a cab from the company while the case is being investigated.
According to police, a 23-year-old woman got into the cab in the 1200 block of South University Avenue early Sunday morning. Police said the man touched her thigh and kissed her before dropping her off at home.
Police are investigating at least one other alleged sexual assault by a taxi cab or limousine driver on a patron.
According to police, a female University of Michigan student was picked up in the same block of South University Avenue on Feb. 3. She was driven to a parking lot near her apartment in the 300 block of Madison Street. According to police, the driver raped her before she left the cab.
That incident is still under investigation by the Ann Arbor police detective bureau. No update on the case was available from Ann Arbor police Tuesday.
Media reports on Monday citing unnamed Ann Arbor police officials indicated a third sexual assault involving a taxi driver took place sometime in January. To this point, Ann Arbor police reached by AnnArbor.com have not confirmed that a third assault took place.
Etter said Blue Cab is concerned about the allegations and emphasized its commitment to its customers safety.
"The safety of our passengers is our highest priority," he said. "Any complaints concerning our service are thoroughly and promptly investigated. We do not knowingly tolerate any abusive or inappropriate conduct on the part of the drivers who lease our vehicles."
Kyle Feldscher covers cops and courts for AnnArbor.com. He can be reached at kylefeldscher@annarbor.com or you can follow him on Twitter.