Posted on
Tue, Jun 19, 2012 : 11:10 a.m.
Stolen: Therapeutic bike used by 8-year-old with cerebral palsy
By John Counts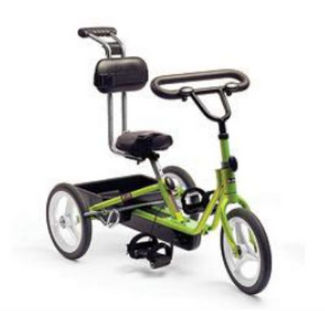 Courtesy of the Washtenaw County Sheriff's Office
A therapeutic tricycle belonging to an 8-year-old Ypsilanti Township boy with special needs was stolen sometime between Sunday night and Monday morning, according to the Washtenaw County Sheriff's Office.
Deputies are investigating the larceny of a Rifton Adaptive Bicycle, which took place at an apartment complex on the 1200 block of Holmes Road in Ypsilanti Township.
The specialized bikes range in price from $1,200 and $1,800.
According to Sgt. Geoff Fox of the sheriff's office, the tricycle was swiped from in front of the boy's apartment.
"(He's) out riding it pretty frequently," Fox said. "Most of the neighbors should have known what it was and what it was used for."
The tricycle is used to provide therapeutic exercise to children with special needs. The 8-year-old used it for physical therapy due to cerebral palsy, according to the sheriff's office.
"He was trying to make his quality of life better," Fox said. "That's what makes this so despicable."
The sheriff's office doesn't have any suspects at this time, but it hopes the community will reach out and help locate the tricycle.
Anyone with information is asked to call the sheriff's office confidential tip line at (734) 973-7711 or 1-800-SPEAK UP.
John Counts covers cops and courts for AnnArbor.com. He can be reached at johncounts@annarbor.com or you can follow him on Twitter.