Posted on
Thu, May 17, 2012 : 10:10 a.m.
Break-in suspect who led police on chase through river was released from jail for free in February
By Kyle Feldscher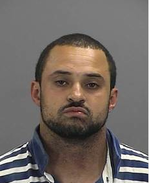 Courtesy of the Washtenaw County Sheriff's Office
Ann Arbor
resident
Daniel Campbell
was charged with three felonies Wednesday, a little more than five months after he was released from the Washtenaw County Jail on a promise to appear.
Campbell, 36, was arrested by Ann Arbor police officers after a chase through the Huron River Monday, and it wasn't the first time officers had him in cuffs on suspicion of breaking into a residence. On Feb. 2, Campbell was arrested on suspicion of breaking into an apartment in the 100 block of North State Street, police said.
Court records show Campbell was arraigned on a charge of second-degree home invasion on Feb. 3 and Magistrate Thomas Truesdell gave him a $10,000 personal recognizance bond.
A personal recognizance bond allows someone charged with a crime to leave jail without paying any money on the promise he will show up for all subsequent court hearings. If that person doesn't show up, he or she is on the hook for the monetary amount associated with the bond, in Campbell's case that's $10,000.
Records show a bond violation was reported on Feb. 10, and on Feb. 16, the day of a scheduled preliminary exam, Campbell was nowhere to be found. A bench warrant was issued for him and a $25,000 cash or surety bond was issued in his absence, according to records.
Campbell was arraigned on the bench warrant at the same time as the charges of first-degree home invasion, second-degree home invasion and assaulting, resisting or obstructing a police officer stemming from Monday's arrest. If Campbell wants to leave the Washtenaw County Jail, he'll have to pay a $25,000 bond for the February arrest and a $50,000 bond for Monday's arrest, records show.
Police were dispatched at 2:21 p.m. Monday to the 700 block of Kingsley Street, where a man reported Campbell broke into his apartment and posed as a maintenance worker when the man confronted him, according to police.
Campbell allegedly fled the area after being told to leave the house, but an officer saw him leaving through the front door of a home in the 1000 block of Fuller Street a short time later. When he noticed an officer coming toward the home, Campbell took off toward the Huron River, eventually going through the river to a footpath on the other side, where he was arrested by other Ann Arbor officers, police said.
Campbell allegedly dropped a blue bag and a black backpack during the chase. Recovered from the bags were laptops, electronics, checks and cash.
Both Lee and Schneider went into the river while pursuing Campbell.
Campbell will be back in court for a preliminary exam at 8:30 a.m. May 24, according to court records.
Kyle Feldscher covers cops and courts for AnnArbor.com. He can be reached at kylefeldscher@annarbor.com or you can follow him on Twitter.