Posted on
Tue, Feb 28, 2012 : 2:12 p.m.
Burglaries reported at 2 businesses on Jackson Road
By Julie Baker
Washtenaw County sheriff's deputies are investigating two burglaries reported Monday at businesses on Jackson Road in Scio Township.
Employees from both Coffee House Creamery and Main Dish Kitchen called police after discovering the businesses had been broken into. It's not clear whether the break-ins are related.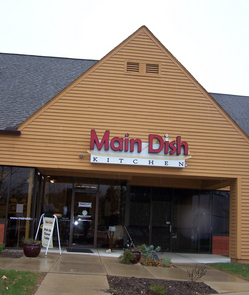 AnnArbor.com file photo
Coffee House Creamery manager Jamie Valliere said she discovered the glass front door was shattered when she arrived at the shop,
3780 Jackson Road
, before 6:30 a.m. Monday. She said she immediately got back in her car, drove to the other side of the parking lot, near the Quality 16 Movie Theater, and called police.
"I was scared. ... I didn't know if anyone was still in the building," she said.
Sheriff's deputies arrived within 10 minutes, she said.
Talus Park, whose wife, Natalie, owns the shop, said some cash and equipment was taken.
Investigators believe the break-in occurred overnight, while the business was closed. Sheriff's office spokesman Derrick Jackson was not immediately reached for comment Tuesday.
At Main Dish Kitchen, 5060 Jackson Road, employees called police Monday after discovering the business, which creates dinners for busy families, had been burglarized. It was not clear whether anything was taken.
No suspects have been identified in either break-in, and the investigation will continue.
The coffee shop is up and running like normal Tuesday after reopening just before lunchtime on Monday.
Valliere is not sure what new precautions they'll take in the future, although she said they've already talked to mangers at the movie theater about keeping an eye out late at night as a first step.
Customers keep coming in as word about the burglary spreads, Valliere said, adding that a woman came in Tuesday afternoon to buy her friend lunch after hearing about the burglary.
"It's a big loss considering how small we are," she said.
Park said one of the regular customers even helped clean up the broken glass from the front door on Monday. The outpouring of support from the community has been overwhelming, he said.
"Unfortunately, there's elements like that in our community, and but no matter what we have to keep going," Park said.
Contact Julie Baker at juliebaker@annarbor.com or 734-623-2576. Follow her on Twitter @juliebakera2.