Posted on
Thu, Aug 8, 2013 : 5:59 a.m.
Charge against Ann Arbor DDA member indicates victim was 'incapacitated'
By John Counts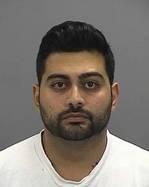 Courtesy of WCSO
The warrant against Nader Nassif, the Ann Arbor Downtown Development Authority board member charged with sexual assault, indicates the victim was "mentally incapacitated" at the time.
The Michigan Penal Code defines the charge this way: "The actor knows or has reason to know that the victim is mentally incapable, mentally incapacitated, or physically helpless."
Police would not comment on this aspect of the case.
Nassif's attorney, Joe Simon, confirmed that this was the count listed in the complaint filed against his client. Simon would not comment any further on the case.
Nassif was arrested July 31 in the 200 block of South Fourth Avenue. The warrant, which didn't appear in court records until Wednesday even though Nassif was arraigned last Friday, lists Nassif as residing in that block.
Police confirmed the victim was a female over 18 and the two were acquainted.
The arraignment was initially scheduled to take place Friday at Pittsfield Township's 14A-1 District Court, but the venue was changed to the 15th District Court in downtown Ann Arbor. A defendant needs to be arraigned within 48 hours from the arrest. Court officials said this played a part in why the venue was changed.
A preliminary examination was set for Aug. 15, according to court records.
Nassif is a criminal defense attorney and a member of the Ann Arbor DDA since 2011. He is a former attorney with the Washtenaw County Public Defender's Office and the Lorandos Joshi Law Firm, and runs his own law firm, The Nassif Law Firm PLLC, at 202 E. Huron St. in Ann Arbor.
He is also a partner with Model Cities Legal Services, with which the city contracts to provide indigent representation in 15th District Court. The city paid $383,000 to the firm for these services in the fiscal year that ended in June. The city approved a $240,000 contract for the fiscal year that started July 1.
John Counts covers cops and courts for AnnArbor.com. He can be reached at johncounts@annarbor.com or you can follow him on Twitter.