Posted on
Mon, Feb 18, 2013 : 12:05 p.m.
Coin box taken during break-in at Malletts Creek library branch
By Kyle Feldscher
An unknown intruder smashed a glass door and broke into the Malletts Creek branch of the Ann Arbor District Library Saturday morning, according to police.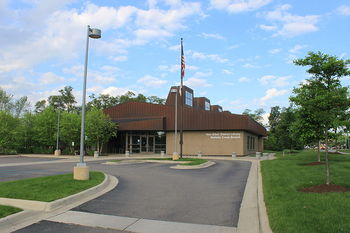 Courtesy of Dwight Burdette
Ann Arbor police Lt. Renee Bush said police responded at 3:25 a.m. Saturday to the library, 3090 Eisenhower Parkway. The library's security company was notified by an alarm going off after the door was smashed and the company then notified police, Bush said.
Bush said the glass door was completely smashed out. A piece of plywood now covers the door.
Ken Nieman, an associate director at the Ann Arbor District Library, said a coin collection box on a copy machine is the only item reported stolen at this point. He said there have been previous break-ins at the library.
He said all library branches have alarms and security cameras and more security measures are not being considered in the immediate wake of the break-in.
"We have everything in place, we have cameras and alarms and everything like that at all the buildings," he said. "We feel the security we have is sufficient."
Bush said it's unknown if there was damage done to any other parts of the building other than the glass door.
There was no suspect description available from police Monday morning. However, Nieman said library officials are working with police to possibly identify who might have broken into the building with security camera footage.
Nieman did not have an estimate available on how much it would cost to replace the glass door. He said the door had a wooden frame but was mostly glass.
"We're getting in touch with the glass company today to measure it out," he said.
Anyone with information on the incident is encouraged to call the Ann Arbor police anonymous tip line at 734-794-6939 or Crime Stoppers at 1-800-SPEAK UP (773-2587).
Kyle Feldscher covers cops and courts for AnnArbor.com. He can be reached at kylefeldscher@annarbor.com or you can follow him on Twitter.