Posted on
Tue, Oct 11, 2011 : 2:55 p.m.
College basketball player arrested with stun gun outside Ann Arbor bar
By Lee Higgins
A University of Detroit Mercy basketball player was arrested early Sunday outside an Ann Arbor bar after police said they found a stun gun in his pocket.
Alvin "P.J." Boutte, 19, a freshman guard for the Titans, was arraigned Sunday morning at the Washtenaw County Jail on charges of possessing a stun gun and being a minor in possession of alcohol.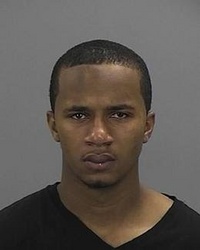 He was released Sunday afternoon on a promise to appear, jail officials said today.
It's unclear whether Boutte will face any disciplinary action with the program. Mitch Wigness, the university's director of sports information, said today that the athletic department is still looking into the matter.
Ann Arbor police spokeswoman Lt. Renee Bush said Boutte was arguing with an employee of BTB Cantina at about 1:25 a.m. Sunday outside the bar at 1140 South University Ave.. An officer heard the men arguing, police said, got out of his patrol car and spoke with Boutte, who was walking down some stairs outside the second-floor bar.
Bush said Boutte "had a strong odor of alcohol coming from his person and his speech was slurred." The officer told Boutte that he needed to leave because that's what the employee asked, Bush said. Boutte told the officer that he should be let into the bar, Bush said.
Bush said the officer spoke to the employee who told police that he asked Boutte to leave because Boutte attempted to get into the bar with a fake identification. When the officer asked Boutte for his identification, he handed over a student ID, showing he was 19, Bush said. Police said Boutte did not have a fake ID with him.
The officer searched Boutte and found a stun gun in his left front pants pocket, Bush said. Bush said Boutte told police that the stun gun wasn't his.
Boutte was arrested, taken to the police station and booked at the jail at 3:39 a.m. Sunday, officials said. He was released at 12:30 p.m. that day.
If convicted of possessing a stun gun, Boutte could face up to four years in prison. A preliminary hearing is scheduled for Oct. 19.
Lee Higgins covers crime and courts for AnnArbor.com. He can be reached by phone at (734) 623-2527 and email at leehiggins@annarbor.com.