Updated at 2:41 p.m.:

Comerica Bank robbed; Carpenter Elementary School put on lockdown

Posted on Wed, Jun 6, 2012 : 12:10 p.m.
Pittsfield Township police are investigating a bank robbery at the Comerica Bank at 2795 Carpenter Road on Wednesday that prompted authorities to lock down Carpenter Elementary School for 30 minutes, an Ann Arbor schools spokeswoman said.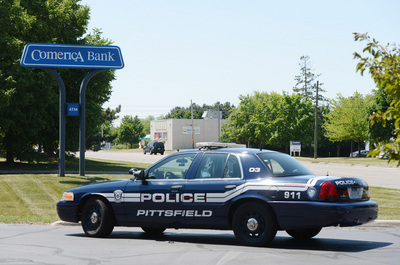 Melanie Maxwell | AnnArbor.com
Liz Margolis said Carpenter was put on lockdown while police searched for suspects, who had fled the area on foot. Margolis said investigators had told the school it was safe to come out of lockdown, but did not tell schools that the suspects had been arrested.
More information on the bank robbery was not immediately available from Pittsfield Township police officials Wednesday morning. Police are still in the area investigating the incident.
Update at 12:25 p.m.: The Federal Bureau of Investigation is assisting the Pittsfield Township Public Safety Department in searching for the suspects, according to spokesman Simon Shaykhet.
Update at 1:43 p.m.: Pittsfield Township police are searching for a man wearing a full latex mask, dark blue hooded sweatshirt, gloves and faded jeans with a heart and a patch on one of the rear pockets.
Police were sent to the bank at 11:28 a.m. for a report of a robbery. The man was last seen heading north toward the office complex next to the bank, according to police.
Update at 2:41 p.m.: According to police, the man walked into the bank showing a handgun and ordered the teller to give him money. The clerk complied and the man fled the area on foot, police said.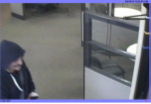 Courtesy of Pittsfield Township polce
The University of Michigan Department of Public Safety's K-9 unit conducted a search for the man but couldn't find him, according to police.
There were no injuries in the incident. Police said the mask the man was wearing was toned to reflect caucasian skin and he was about 5-feet-6 to 5-feet-8 inches tall.
Anyone with information on the incident is encouraged to call the Pittsfield Township police at 734-822-4911.