Posted on
Mon, Nov 7, 2011 : 5:59 a.m.
County won't return surveillance video to Ypsilanti Township following sheriff's department internal investigation of theft
By Lee Higgins
Washtenaw County officials won't return a surveillance video to Ypsilanti Township that the township provided the sheriff's department as the department investigated whether a sheriff's employee stole $20 from a court employee's car.
Township Attorney Doug Winters asked Undersheriff Mark Ptaszek to return the video after sheriff's investigators completed an internal investigation and said they found conclusive evidence clearing a sheriff's employee in the March 8 theft.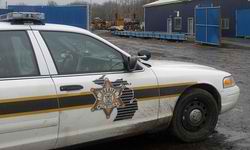 In an Oct. 19 letter to Ptaszek, Winters wrote that he needed the video in order to comply with a Sept. 26 Freedom of Information Act request from AnnArbor.com. The video also was subpoenaed by Attorney Nanette Cortese, who represents former Deputy Eric Kuhn in a federal whistleblower lawsuit against the county.
Court filings in that case say the video shows what is believed to be a high-ranking sheriff's employee near the victim's car, which was parked at the township's civic center. The county acknowledged in court filings that there was an officer near the victim's car, but said the officer never entered the car.
Winters wrote that the only known copy of the video was turned over March 11 to sheriff's special investigator Brian Miller. The township's video was automatically recorded over after 30 days, he wrote.
The county's risk management coordinator, Judy Kramer, responded to Winters Oct. 27, saying the the video is exempt from release under the Freedom of Information Act. One exemption cited was that it was part of a sheriff's official's personnel file.
Winters told AnnArbor.com that he never filed a FOIA request and simply wants the township's property back. If the sheriff's department wants to make a copy of the video and keep it for its records, he said he doesn't object.
"All that we're trying to do is get back a copy of the surveillance video that was downloaded from our surveillance security system," he said. "I don't see any detriment as to how it would hurt them to turn it over."
In a Nov. 3 letter to Kramer, Winters wrote that the county had no basis for withholding the video and its disclosure would in no way interfere with law enforcement proceedings.
"This refusal is both unfortunate and unnecessary and certainly does nothing to enhance the much needed cooperation between all levels of government in Washtenaw County," he wrote.
Winters wrote that he was informing the township's board of trustees of the county's decision and will await further direction from the board.
County Attorney Curtis Hedger did not return a phone call seeking comment Friday. Undersheriff Ptaszek also did not return a phone call.
AnnArbor.com has been seeking the video since Aug. 24, when it filed a Freedom of Information Act request with the county, seeking all records of the larceny investigation, including the video. The county denied the request, saying the records, including the video, are exempt from public release under state law because they are all part of an internal investigation.
The case centers around a Deputy 14B District Court clerk who reported to the court administrator that she believed money was taken from her car. After township officials reviewed surveillance video, they contacted Sheriff Jerry Clayton.
The sheriff's department never created a police report, but instead launched an internal investigation. At one point, the department asked for assistance from the Michigan Sheriff's Association MISSION board, which provided two lieutenants from other law enforcement agencies to help.
Regardless of whether the county returns the video to the township, it could come out in federal court during proceedings in former Deputy Eric Kuhn's whistleblower lawsuit against the county. A federal magistrate judge recently held a hearing on a motion to reopen discovery filed by Cortese, and has not yet ruled on it. Cortese is seeking the video and wants to take depositions from top sheriff's officials about the handling of the larceny investigation.
Kuhn's suit, filed in March 2010, alleges he was retaliated against, and ultimately fired, for complaining about an improper internal investigation against him. It claims a white lieutenant disregarded orders and persisted with an internal investigation into a false rape claim against Kuhn, in whole, or in part, because Kuhn is black.
Cortese argues that the records in the theft case are relevant to Kuhn's case because the county's position has been that the department investigated Kuhn because it was required to follow policy.
The motion says it isn't possible to determine whether the county followed procedures in investigating a white officer in the theft case because the county "refuses to provide the records."
FOLLOW-UP.LETTER.TO.PTASZEK.pdf
Lee Higgins covers crime and courts for AnnArbor.com. He can be reached by phone at (734) 623-2527 and email at leehiggins@annarbor.com