Posted on
Mon, Mar 25, 2013 : 4:40 p.m.
Court records: 18-year-old charged in drive-by shooting was free on bond after weapons arrest
By Kyle Feldscher
An 18-year-old Ann Arbor man is charged with shooting an 18-year-old man in the shoulder Sunday morning while he was free on bond in a separate case, court records show.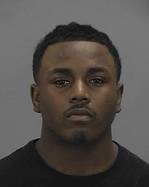 Courtesy of WCSO
Torrey Juide is charged with assault with intent to murder, assault with intent to do great bodily harm less than murder, carrying a concealed weapon and possession of a firearm during the commission of a felony, according to court records. He was arraigned Monday at the Washtenaw County Jail, where he was held as of 3 p.m. Monday.
Juide is charged with shooting an 18-year-old Ypsilanti man once in the shoulder sometime before 1:58 a.m. Sunday in the 3500 block of South State Street. Ann Arbor police Detective Bill Stanford said the two teens knew each other and had previous confrontations.
"It was a drive-by type shooting," Stanford said. "There were multiple witnesses and a distinct vehicle involved. We tracked the vehicle to Tecumseh and were able to make the arrest."
Juide and an 18-year-old woman were arrested Sunday in Tecumseh by Ann Arbor police investigators, with the assistance of the Lenawee County Sheriff's Office and the Tecumseh police.
Stanford said he was told Juide's bond was set at $50,000 cash. There was no record of the bond available from jail records Monday afternoon. The 18-year-old woman who was also arrested in the case was not charged, Stanford said.
Officials from the Washtenaw County Prosecutor's Office were not immediately available to comment on the decision to not charge the woman.
The incident came a little more than a month after he pleaded guilty to a misdemeanor count of disturbing the peace.
Juide was charged with possession of a billy club and carrying a concealed weapon earlier this year. Detective Chris Fitzpatrick, of the Ann Arbor Police Department, said the charges stemmed from a December incident.
"It was a suspicious subjects call, a possible drug dealing complaint," Fitzpatrick said. "Officers came across him and he had a billy club in the car and it was his."
Magistrate Thomas Truesdell, records show, arraigned Juide on the charges on Jan. 15. Truesdell gave him a $10,000 personal recognizance bond, allowing him to leave the jail for free.
On Feb. 21, Juide pleaded guilty to an added third count of disturbing the peace, a misdemeanor, records show. In exchange, the felony charges of possession of a billy club and carrying a concealed weapon were dismissed.
He was scheduled to be sentenced in the case on April 19, according to court records.
The allegations against Juide will surely raise more questions about the amount of bond given to accused criminals, who then go on to be charged in other crimes while their cases are pending.
In the last two weeks, Javare Holmes was arrested and charged with 11 felonies — all committed while he was free on bond from a May 2012 case. The news that Holmes was able to leave jail and allegedly commit more crimes upset many members of the community.
Juide graduated from Skyline High School in June 2012 and is a former member of the school's varsity football team.
Kyle Feldscher covers cops and courts for AnnArbor.com. He can be reached at kylefeldscher@annarbor.com or you can follow him on Twitter.