Posted on
Tue, Dec 6, 2011 : 11:13 a.m.
Defense attorneys seek information on FBI informants in Hutaree case
By Lee Higgins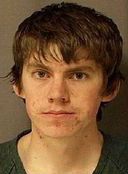 Defense attorneys for Hutaree militia member David Stone Jr. filed a motion Monday, asking the government to disclose the identities of two confidential informants that the FBI relied upon when it began formally investigating Hutaree in 2008.
The "motion for disclosure and production of confidential informants" was filed the same day 29-year-old Hutaree member Joshua Clough of the Blissfield area pleaded guilty in federal court in Detroit to a gun charge in the case.
Defense attorneys are seeking the identify of a man known to Hutaree members as "Dan Murray" who made "audio and video recordings of several Hutaree trainings" over a 19-month-period while posing as a Hutaree member. They also are seeking the identity of a confidential informant who claimed the "notorious 'anti-government conspiracy' theorist Mark Koernke was one of two leaders" of Hutaree. Koernke, of Webster Township, wasn't charged in the case.
The FBI relied upon the informants when agents asked in September 2008 that a formal investigation be opened into Hutaree. Five months after that request, the FBI inserted an undercover agent into the group. The undercover was a certified special agent bomb technician who is a trainer in basic booby traps, court records show.
Stone Jr. is among seven Hutaree members awaiting trial on charges the group was plotting to attack law enforcement. Another member has been declared incompetent to stand trial.
Attorney Todd Shanker of the Federal Defender Office filed Monday's motion, along with an 11-page FBI report dated Sept. 30, 2008, that shows why agents were requesting a formal investigation be opened into Hutaree.
The FBI report says Hutaree had the following beliefs:
Oklahoma City: The FBI blew up its own building, and Timothy McVeigh is a scapegoat. The FBI went in and removed evidence and important documents.
Hurrican Katrina: A squad of Army Rangers came into New Orleans and set off explosives on the levies. Then United Nations troops came in and set the explosives off. UN and US troops then came into neighborhoods, confiscated weapons and murdered people.
The Constitution is a fraud. The founding fathers were actually involved in the New World Order (NWO). Evidence of their involvement is when they deleted "Jesus Christ" from the Constitution and put in "God."
Gas prices and food shortages are being manipulated by the government. The dollar is being devalued to the level of the peso.
A bank robbery in Los Angeles in which suspects were dressed in full body armor was a staged television event that never happened. No law enforcement agency is valid. All are part of the New World Order. All government agencies are invalid and part of the conspiracy.
Hutaree member Wendy Lineweaver of Manchester Township, who was not charged in the case, said those beliefs were shared by some, not all, Hutaree members. Much of the FBI report is inaccurate, she said.
"There's a little bit of truth in there," she said. "But, for the most part, it's a fabrication from start to finish."
For instance, the report says after a Hutaree training, Lineweaver escorted an undercover informant off some property in her car. The report says Lineweaver was driving, while a woman in the back of Lineweaver's car held a gun at the back of the informant's head. At the time, Hutaree members did not know the person was an informant.
Lineweaver said she never escorted anyone off the property, but gave a man a ride. "He asked me for a ride back to his car," she said.
Lineweaver said there was a woman in the back seat, but she never pointed a gun at anyone. "It never happened," Lineweaver said. "That woman never had a gun in her possession. She never fired a weapon that day."