Posted on
Thu, Oct 27, 2011 : 5:56 a.m.
Defense for woman accused of killing husband can spend up to $1,500 to call experts at trial
By Kyle Feldscher
The defense attorneys for a woman accused of killing her husband in March will be allowed to spend up to $1,500 plus mileage reimbursement to call two witnesses at trial, a judge ruled Wednesday.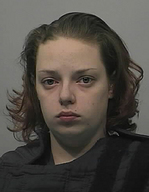 Katharine Mishler is accused of premeditated murder for allegedly shooting and killing her husband Samuel Mishler early on March 23 following an argument. Laura Dudley, a Washtenaw County assistant public defender and Mishler's attorney, said the defense is planning on calling two expert witnesses that will require money.
One of the witnesses is expected to be Daniel Saunders, a professor of social work from the University of Michigan, who is expected to tell to the jury about why women who are battered will not seek police help, medical attention or leave their significant others.
Dudley said the other witness is a worker from a woman's shelter in Lansing who would only need her mileage covered for driving to Washtenaw County to interview Mishler and then testify. She said that would likely cost less than $100.
Dudley said she wants to show the jury in the trial, which is scheduled to begin at 8:30 a.m. Dec. 15, that there is research that supports why Mishler would not leave her husband if he was abusive.
Mishler is currently lodged at the Washtenaw County Jail. She faces on count of open murder and has not been given a bond.
Police said Mishler originally told a dispatcher she had shot an intruder that had come into her home with a knife. Later into the investigation, Mishler told police she shot Samuel Mishler after an argument, police said.
The argument allegedly started because Samuel Mishler was upset because the couple's dog was jumping on him, and Katharine Mishler was tired of always being the one to do chores, Katharine Mishler told police.
According to Washtenaw County sheriff's Detective Everette Robbins' testimony at a preliminary examination in June, Katharine Mishler insisted Samuel Mishler leave and threatened to shoot him if he stayed. Robbins said Katharine Mischler told him she went into a bedroom and grabbed one of three guns stored there and cocked it.
When she walked back into the living room, Samuel Mishler told her, "If you want me to leave so much, pull the trigger," according to Robbins. Minutes later, Samuel Mishler was dead.
The autopsy performed on Samuel Mishler indicated the cause of death was a single gunshot wound to the head. The injuries Mishler sustained led investigators to believe the muzzle of the gun was directly pushed against Samuel Mishler's head when it was fired.
Kyle Feldscher covers cops and courts for AnnArbor.com. He can be reached at kylefeldscher@annarbor.com or you can follow him on Twitter.