Posted on
Fri, Jan 28, 2011 : 2:55 p.m.
Deputies cleared in investigation of Tasering death in Superior Township
By Lee Higgins
Washtenaw County prosecutors found no evidence that county sheriff's deputies violated the law or used excessive force when they used a Taser during a drug bust on a man who later died.
An autopsy found the death of 31-year-old Stanley Jackson Jr. of Belleville was caused by sudden cardiac arrest and Tasering, but prosecutors say they found no wrongdoing by deputies or emergency medical personnel after they reviewed a Michigan State Police investigation of the case.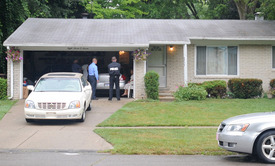 Angela J. Cesere | AnnArbor.com
Sheriff's Department spokesman
Derrick Jackson
said an internal investigation continues to determine whether deputies violated policies or procedures.
Stanley Jackson died at 6:20 p.m. Aug. 20
at St. Joseph Mercy Hospital, roughly 95 minutes after being Tasered three times inside his mother's Superior Township home, an autopsy report says.
According to a Jan. 6 memo from Chief Assistant Prosecutor Joe Burke to Prosecutor Brian Mackie, Deputy Sean Urban acted appropriately when he chased and subdued Jackson after an undercover officer reportedly witnessed Jackson sell drugs to people.
The undercover officer, working for the Livingston and Washtenaw Narcotics Enforcement Team, was in an unmarked car when he saw the transactions outside the home on Heather Drive and requested assistance from uniformed deputies.
Deputy Urban drove up in a marked car and got out. Jackson saw Urban and the undercover officer and ran, grabbing at his waistband, the memo says. Urban chased Jackson inside and shot him in the upper body with a Taser gun, the memo says, prompting Jackson to fall to the floor. Deputy Tom Mercure was next inside, followed by Deputy Holly Farmer and Deputy Dean Reich.
Stunned from the effects of the Taser, Jackson was on his back with his arms tensed in front as deputies attempted to handcuff him, the memo says. Jackson, who was roughly 6 feet tall and 275 pounds, was "salivating, had his jaws clenched and was staring," according to the memo.
As the effects of the Taser wore off, Jackson became "loud, agitated and aggressive" and attempted to get up despite officers' commands to stay down. Deputy Farmer was holding onto Jackson when he leaned forward with his "mouth open and teeth bared," as if he was going to bite her, the memo says.
Farmer punched Jackson in the jaw and told him not to bite. He continued to attempt to move his hands toward the front of his waistband, when Urban put the Taser against Jackson's body and Tasered him again. It's unclear whether Jackson was Tasered a third time by Mercure, the memo says.
Officers searched Jackson and found a plastic bag tucked in his waistband that contained a white substance. They also saw bags of marijuana on a kitchen table, the memo says.
When EMS technicians arrived, Jackson was spitting, so they put an oxygen mask on his face and strapped him to a stretcher. Officials say they were unable to check his vital signs because Jackson was being combative and struggled on the way to the hospital.
Because he was being belligerent and combative at the emergency room, he was sedated with a dose of Lorazepam and shortly thereafter was in respiratory distress, the memo says.
Jackson, who had a GPS device attached to his ankle, was on probation for a drug conviction and was already facing drug charges unrelated to the bust. Officers initiated the investigation after receiving complaints from residents, police said.
Jackson's mother, Pearlie Jackson, could not be reached for comment today.
Lee Higgins covers crime and courts for AnnArbor.com. He can be reached by phone at (734) 623-2527 and email at leehiggins@annarbor.com.