Deputies searching for man who broke into Ypsilanti Township business
Posted on Thu, Jul 12, 2012 : 11:14 a.m.
An Ypsilanti Township business was broken into and cash and change from a vending machine was stolen early Tuesday, according to deputies.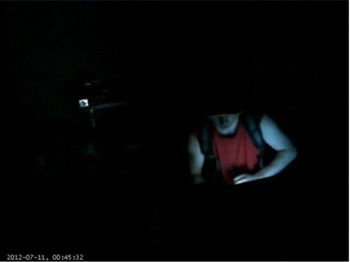 Courtesy of the Washtenaw County Sheriff's Office
The man pried open the front doors of X-Ray and Specialty Instruments, 1980 E. Michigan Ave., with an unknown object and rifled through some desk drawers, taking a handgun, Washtenaw County Sheriff's Office deputies reported. The man then pried open a pop machine and stole cash and change contained inside.
The incident occurred at 12:44 a.m. Tuesday.
Security camera footage managed to grab some images of the man, but the dark store makes it difficult to clearly see the man. He's described as white, young, thin, wearing a dark stocking cap with a yellow stripe and a red, sleeveless shirt with a wide stripe down the side.
Deputies are actively investigating the case. Anyone with information on the incident is encouraged to call the Washtenaw County Sheriff's Office anonymous tip line at 734-973-7711.