Posted on
Sun, Sep 25, 2011 : 1:03 p.m.
Washtenaw County deputy Joe Ballard to be honored with lifesaving award
By Lee Higgins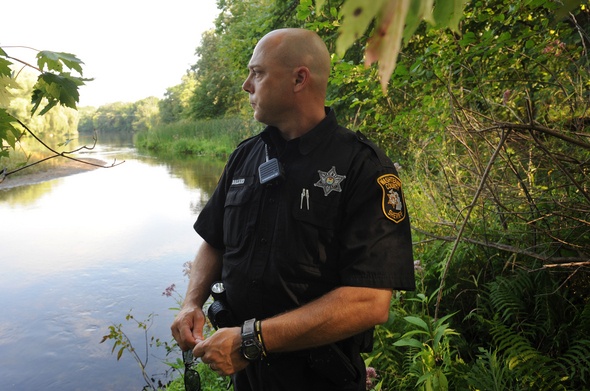 Melanie Maxwell | AnnArbor.com
Washtenaw County sheriff's deputy Joe Ballard doesn't think he deserves special recognition for jumping in the Huron River in August and rescuing a man who was drowning. He says it was something he felt obligated to do.
"I did not want to go through my life knowing that I could have saved somebody and I watched them die," Ballard said.
Ballard, a 10-year sheriff's department veteran assigned to Scio Township, will be honored by the department with a lifesaving award.
He recalled the night of Aug. 2 when he was dispatched on a report of a suspicious incident near West Huron River Drive and Tubbs Road in the township. Dispatchers had received a report that a man was standing on the side of the road, waving for help.
When Ballard drove up in his patrol vehicle about 7:47 p.m., he interviewed a driver who had seen the man sitting near a bridge over the river. Ballard went to the bridge and found a cell phone and backpack on the river bank, but the man wasn't there.
"As I walked down toward the river, I heard screaming in the woods," Ballard said.
Ballard couldn't make out what the person was screaming. He scoured the woods, walking roughly 300 yards east of the bridge, where he stopped on the river bank to listen. He saw a man's head emerge briefly from the water, about 50 feet from shore.
"He pops up almost like he was gasping for air and goes back under," Ballard said.
Ballard then lost sight of the man. "I knew what I had to do," he said.
Ballard told dispatchers he was going in the water. Thirty feet east of where he first saw the man, the man's head popped up again.
Ballard took off his bulletproof vest and duty belt and entered the water, making it out to an island 20 feet from the river bank. He then swam another 15 feet out in the river and grabbed hold of the man, who was unconscious. Ballard brought the man back to the island. The man did not appear to be breathing, but then started coughing up water, so Ballard did not have to administer CPR. Ballard said the man was heavily intoxicated.
Ballard and Sgt. Keith Flores brought the man from the island to the river bank. The 50-year-old man was taken by ambulance to University of Michigan Hospital to be evaluated.
"He said he couldn't remember if he passed out or blacked out when he fell into the river," Ballard said. "He told us he didn't think he was trying to commit suicide."
A witness told deputies that the man mumbled something about a girl and made a comment that he wanted to die prior to ending up in the water. Ballard had never seen the man before and hasn't seen him since. He learned the man was homeless and had recently been released from the hospital. The man never thanked Ballard, but Ballard said that wasn't important.
"I would have done it if I was off-duty," he said.
After the rescue, Ballard went home and put on a change of clothes. He returned to work and apprehended a man who fled from state police after crashing on I-94.
"It was a busy night," Ballard said.
Prior to working full-time for the sheriff's department, Ballard was as a reserve deputy for 6 years and also worked in security at Domino's Farms. Becoming a police officer was a childhood dream, he said.
Sheriff Jerry Clayton said Ballard didn't think twice before taking action and he was proud of him.
"I think sometimes people take for granted what first responders do," Clayton said. "I just think this is just another example of the selflessness of first responders."
Lee Higgins is a reporter for AnnArbor.com. He can be reached by phone at (734) 623-2527 and email at leehiggins@annarbor.com.