Detroit man arraigned on charges involving sexual assaults near EMU campus
Posted on Fri, Sep 14, 2012 : 6:05 p.m.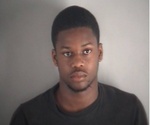 Courtesy of Ypsilanti police
An 18-year-old Detroit man was arraigned Friday at the Washtenaw County Jail on two counts of criminal sexual conduct in connection with assaults that allegedly took place near the Eastern Michigan University campus.
Non-student Paul Cy Phelps III is accused of forcing himself on a 19-year-old woman and a 22-year-old woman on consecutive nights last week, Ypsilanti police said. He is charged with two counts of third degree criminal sexual conduct, both involving penetration. Both are felonies with a maximum sentence of 15 years in prison.
The 19-year-old woman is a student at EMU. The 22-year-old has been a student at the college in the past, and was trying to register for classes this year, said Ypsilanti police Sgt. Thomas Eberts.
This isn't the first college campus area where Phelps is accused of causing trouble, Magistrate Elisha Fink noted in court Friday. When the incidents occurred near EMU's campus last Thursday and Friday, Phelps was free on bond after being charged with a crime on the Saginaw Valley State University campus, she said.
Phelps and an accomplice were accused of breaking in to dorm rooms at the university in March 2011 and stealing a television, a computer, money, and wallets, the Saginaw News reported.
Police said Phelps met the 22-year-old woman a few days before a Sept. 6 party. After the party, friends dropped off the woman at her home in the 300 block of Jarvis Street. Phelps came over a short time later and is accused of sexually assaulting the woman. The incident was reported to police at 2:30 a.m. Sept. 6.
Phelps also is suspected of sexually assaulting the 19-year-old woman a day later in the 900 block of Railroad Street, police said. That incident was reported to police at 3 a.m. Sept. 7.
The victims did not know each other. Eberts said police were able to connect them to Phelps through his cell phone, which he used to call both female victims.
Phelps was arrested Thursday in Detroit by a United States Marshals Fugitive Task Force.
Phelps was arraigned on the charges at the jail by Magistrate Elisha Fink, who set bond at $50,000 cash or surety.
Ypsilanti police had requested a much higher, $500,000 bond at the arraignment.
"We have concerns about him as a flight risk," said Ypsilanti police Ofc. Brooke Harrison.
Phelps, a convicted felon on probation for unarmed robbery in Oakland County, disagreed.
"I've (shown) up for every court date," he said.
Fink said if Phelps did post bond, he could have no contact with the two victims or go near either Jarvis or Railroad streets or the EMU campus.

View Ypsi Sex Assaults in a larger map