Posted on
Thu, Nov 3, 2011 : 5:58 a.m.
The perils of drowsy driving, even when you are a cop
By Rich Kinsey
One morning many years ago, I had recently been promoted to sergeant and was riding with the captain on the shift. It was great working with this captain because he was still a hustler and took pride in police work.
We rode on the midnight shift, and he had 10 years of seniority and rank two levels above mine and always took the keys and drove. It was comical because every night he started out driving until 2 or 3 a.m. when he would let me take over the duties of piloting the cruiser.
Most mornings in order for me to drive it would take him getting drowsy and crossing the centerline or nearing a curb, not once but twice. I'd wake him as he veered, "Cap? CAP! How about letting me drive?" First pilot error of his, nope — he was all right. Second near miss would do the trick, and he would agree to let me drive.
On one of these occasions, we had both been working extra shifts during football season — "party patrols" on Thursday, Friday and Saturday along with a football game during the day on Saturday. (Police officers often work many more than 40 hours a week — especially now with police departments downsized). We had been working the midnight shift on a Sunday night when midnights were midnight to 8 am.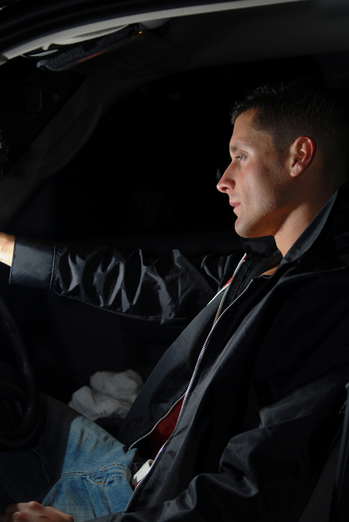 Markstout | Dreamstime.com
The toughest time on a midnight shift for me is when the sun is coming up. I am a night owl by nature, and the sun coming up after working all night really made me sleepy. On this particular morning, we had transitioned from headlights to sunglasses. I was driving eastbound on Huron Street into the sun and stopped for the light at First, where, thank goodness, there is an incline.
I stopped for the light and my nightmare began. I fell asleep waiting for the light to change. Unfortunately so had the Captain — apparently our conversation was not very stimulating that morning. My foot was luckily locked on the brake pedal. When the light changed to green and we did not move — a police car was now holding up traffic during Monday morning rush hour. A brave motorist finally blew his horn to wake me from my slumber.
I was mortified and what was worse, the light had changed back to red — so I had slept through an entire cycle. I was embarrassed by my blunder and wished I was somewhere else. What made it worse I had to wait in shame through another light cycle.
The captain was not pleased either. Believe me, I was awake for the rest of the trip to the station. It is really amazing how many rather profane words can be strung together with IDIOT. I think in one sentence he touched upon my size, level of intelligence, genealogy, alleged sexual proclivities, seniority, driving expertise and the level of embarrassment I had caused the Ann Arbor Police Department specifically and law enforcement in general. Ouch — and this Captain liked me!
Take a lesson from my buffoonery. Drowsy driving is extremely dangerous. An insurance investigator and police brother suggested this article. He told me I would not believe how many drivers falling asleep at the wheel in the morning or early afternoon cause many of the claims he investigates.
According to the National Highway Traffic Safety Administration (NHTSA) the groups most at risk to fall asleep at the wheel are; "Young people (ages 16 to 29), especially males, shift workers whose sleep is disrupted by working at night or working long or irregular hours and people with untreated sleep apnea syndrome (SAS) and narcolepsy."
Poor sleep patterns and little sleep in combination with alcohol, prescription medications causing drowsiness and illegal drugs increase the likelihood of a driver falling asleep at the wheel. The only real cure for the problem is getting enough sleep before driving.




We have all felt drowsy at some point in our driving careers. The NHTSA only recommends quick fixes to get you home or to a hotel, motel or some other place where it is safe to sleep. The NHTSA quick fixes include: napping (15-20 minutes), consuming caffeine (the equivalent of two cups of coffee) and physical discomfort (adjusting the interior temperature to chill you and adjusting the seat in a straight up or uncomfortable position).
One of the tricks I learned from a colleague to stay awake on long surveillances was to listen to talk radio — especially to someone with differing views than yours in order to make your blood boil a little. Drinking plenty of fluids (non-alcoholic) can also keep you awake. It keeps you hydrated and alert for the next rest area, for relief and to stretch your legs.
The NHTSA reports that rumble strips on high-speed roadways are making a huge difference in preventing sleep related crashes. Their findings showed that "run off" crashes in areas equipped with rumble strips dropped 30-50 percent. Ann Arbor really does not need rumble strips because the roads are bumpy enough, and pedestrians jumping out everywhere keeps driver on their toes.
My best advice is to get enough sleep before you hit the road. For those who were stopped behind my patrol car on Huron Street many years ago, my humblest apology.
Lock it up, don't leave it unattended, be aware and watch out for your neighbors.
Rich Kinsey is a retired Ann Arbor police detective sergeant who now blogs about crime and safety for AnnArbor.com. He also serves as the Crime Stoppers coordinator for Washtenaw County.