Posted on
Thu, Aug 15, 2013 : 1:58 p.m.
Hours of off-the-record discussion delay hearing for attorney charged with sexual assault
By Kyle Feldscher
After hours of discussion in bench conferences and behind closed doors Thursday, a hearing was scheduled for Tuesday to work out evidentiary issues in the case against Nader Nassif.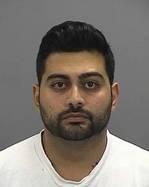 Courtesy of WCSO
Nassif, a former Ann Arbor Downtown Development Authority board member, was in court Thursday morning for his first preliminary exam hearing after being charged with third-degree criminal sexual conduct. The charge stems from an alleged sexual assault that took place on July 31. Nassif resigned from the DDA after he was arraigned.
Washtenaw County Assistant Prosecutor J. Samuel Holtz and Nassif's attorneys, Joe Simon and Jill Schinske, approached 14A District Court Judge J. Cedric Simpson about 8:50 a.m. when the case was called. A 40-minute, off-the-record discussion ensued before the case was passed.
Just after 11 a.m., Nassif's case was called again and Washtenaw County Chief Assistant Prosecutor Steven Hiller joined Holtz in another bench conference with Simon, Schinske and Simpson. After about 10 minutes, the four attorneys went into Simpson's chambers to continue the discussion.
Nearly an hour later, all five returned to the courtroom. Simpson said the discussions revolved around evidence Schinske wants to protect due to attorney-client privilege.
The discussion was on "certain issues … some of which may not be fully added on the record," Simpson said in court.
Schinske placed her appearance on the record when the case was initially called, and said she intended to protect attorney-client privilege in regards to items seized from Nassif during the investigation. Nassif was arrested at his apartment in the 200 block of South Fourth Avenue, which is where the alleged incident occurred.
Simpson scheduled an evidentiary hearing in the case for 1:30 p.m. Tuesday at the 14A-1 District Court in Pittsfield Township. The preliminary exam was adjourned until 1:30 p.m. Sept. 20 in the same court.
Hiller directed questions on the evidentiary issues to a written motion filed by the defense. A copy of that motion was not immediately available at the Washtenaw County Trial Court because the file was at the 14A-1 District Court for Simpson's viewing during the hearing.
The hearing Thursday was the latest bit in a series of legal gymnastics since Nassif's arrest on July 31.
Nassif was held at the Washtenaw County Jail and was scheduled to be arraigned there on Aug. 2. His arraignment was delayed and officials said it had been moved to Aug. 3, until court officials realized Nassif would have to be released if he was not arraigned on Aug. 2.
Court officials told AnnArbor.com the only magistrate available on the afternoon of Aug. 2 was at the 15th District Court, where Nassif's law firm is contracted to provide representation to indigent clients. He was arraigned on the sexual assault charge there and then bonded out of jail.
Computer court records did not show any results for Nassif until Aug. 7, five days after his arraignment. There was no physical file in the court at that time, and AnnArbor.com was not able to view a copy of the criminal complaint against Nassif until Tuesday, when it was obtained through a Freedom of Information Act request from the prosecutor's office.
The charge indicates the alleged victim in the case was incapacitated and sexual penetration took place, according to the complaint.
Nassif knew or had "reason to know that the victim was mentally incapacitated and/or physically helpless," according to the complaint.
Nassif is no longer being appointed to cases at the 15th District Court, officials confirmed this week. He declined comment after the hearing on Thursday.
Kyle Feldscher covers cops and courts for AnnArbor.com. He can be reached at kylefeldscher@annarbor.com or you can follow him on Twitter.