Posted on
Mon, Nov 19, 2012 : 5:59 a.m.
Experts: False police reports cost police time and effort but remain rare in Washtenaw County
By Kyle Feldscher
Despite a few high-profile instances of false police reports being filed in the last several weeks, statistics show the number of people being charged with a crime for filing a false report has remained relatively steady.
As of Nov. 9, Washtenaw County prosecutors have brought felony charges of filing a false report of a felony against 20 people in 2012, according to statistics released by Washtenaw County Chief Deputy Assistant Prosecutor Steve Hiller. That's also the number of people charged with the same crime in 2011, and it's three fewer than the number charged in 2010, statistics show. Those numbers are generally reflective of the last 11 years in Washtenaw County, records show.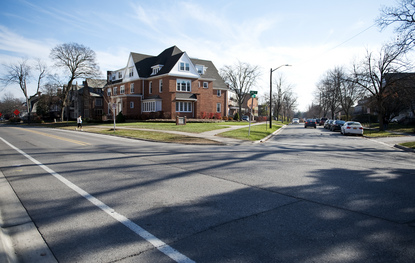 Daniel Brenner | AnnArbor.com
The numbers seem to fall in line with anecdotal evidence from police officials in Washtenaw County, who said false police reports are remain rare in the area.
"We don't deal with it all that often," said Bob Heighes, chief of the Eastern Michigan University Department of Public Safety. "The majority of people who make reports to police have legitimate reports."
Eight people have faced misdemeanor charges of filing a false police report in 2012. In both 2011 and 2010, 15 people faced misdemeanor charges.
The punishments for filing a false report are steep: The felony charge carries a maximum of four years in prison and a $2,000 fine, while a misdemeanor charge carries a maximum of 93 days in jail and a $500 fine.
The EMU police department is the most recent one to have a police report declared false after investigation. A 21-year-old student claimed four men robbed him with a handgun on Nov. 2, a claim proven to be false when police reviewed security camera footage.
When a false police report is filed, it can often be a very hazy ordeal — both for the person filing the report and the investigators tasked with following up on their claims.
Many times, alcohol plays a factor in false police reports, police officials say. If a person can't remember what happened or can only remember parts of an incident, the case becomes difficult for police to investigate and can lead to victims recanting their stories.
"If there's limited memory of it because someone's somewhat under the influence, it certainly makes it difficult," Heighes said. " ... That has an effect on what direction we can go."
False reports can complicate things for university police departments, which are required by the federal Cleary Act to send out crime alerts when major felonies are reported on or near campus. Crime alerts will be sent out and then, if investigation reveals a crime wasn't committed or cannot be proven, a subsequent alert will be needed to tell the campus community there was no crime.
An EMU crime alert was rescinded in the case of the alleged armed robbery on Nov. 2. University of Michigan police had to do the same with a crime alert sent out on Oct. 7 after a woman told Ann Arbor police she had been sexually assaulted by four men while walking on Hill Street between Church and Tappan streets.
University of Michigan Department of Public Safety spokeswoman Diane Brown said reports may be declared false when investigators are given incomplete, or conflicting, information. Often there's some element of truth involved in the report, but police may not be able to definitively say a crime was committed when stories change, she said. However, it's rare to see a report that is totally fabricated.
"To be able to say, flat out, nothing happened, we don't have those very often," Brown said.
For many police departments, the biggest issue with false police reports can sometimes be the time and effort spent on investigations when there's nothing to find.
Ann Arbor police Detective Lt. Robert Pfannes said all false reports — whether armed robbery, criminal sexual conduct or any other serious crime — take resources away from investigations into legitimate reports. With police departments still strapped for resources, investigating things that never happened can be particularly harmful to other crime victims.
"Ironically, a false criminal report can sometimes be more labor intensive because officers and detectives are searching for leads and people that do not exist," Pfannes said.
Gregg Barak, an EMU professor who specializes in criminology, said while some people might file false reports of burglary or home invasion to claim insurance money for the stolen items, people who file reports of completely made up crimes may be seeking attention.
"Why are these people doing it? It seems like an attention-getting device," he said.
Barak called filing false reports "fraudulent behavior" and said victim surveys and Federal Bureau of Investigations statistics don't track these particular crimes. However, he said it's not something police departments experience on a regular basis.
"I don't think it's a big phenomenon, but it does occur and it takes resources," he said.
Kyle Feldscher covers cops and courts for AnnArbor.com. He can be reached at kylefeldscher@annarbor.com or you can follow him on Twitter.