Posted on
Thu, Apr 7, 2011 : 5:55 a.m.
FBI agents search University of Michigan students' apartment during investigation involving World of Warcraft scheme
By Lee Higgins
FBI agents recently raided at an apartment at University Towers in Ann Arbor as they investigate potentially fraudulent sales or purchases of virtual currency that people use to advance in the popular online role-playing game World of Warcraft, records show.
No arrests have been made, FBI Special Agent Sandra Berchtold, a bureau spokeswoman in Detroit, said Wednesday.
Berchtold said she could not comment further on the March 30 raid because many documents in the case remain sealed.
The apartment is home to two men, a sophomore and a junior at the University of Michigan. The sophomore, who was there during the raid, told AnnArbor.com that he thinks the FBI has the wrong people and he and his roommate don't play World of Warcraft, known as WOW.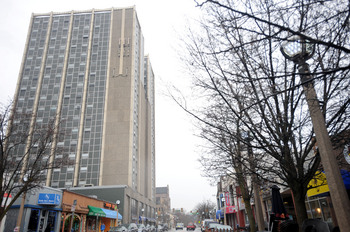 Angela J. Cesere
"They thought we were involved in some kind of fraud," he said. "I'm pretty sure they have the wrong people, but they took all my stuff."
He said he has been consulting with student legal services to explore his options. His roommate could not be reached for comment. AnnArbor.com is not naming the men because they have not been charged with a crime.
Agents are investigating whether at least one person engaged in a scheme to set up fraudulent bank accounts to buy and/or sell "virtual currency" or "gold" to be used in the game, federal court records show.
WOW gamers say players take the game seriously and are willing to pay real cash for virtual currency in order to get ahead. When players complete tasks such as slaying monsters, they earn virtual currency they can use to buy better equipment for their characters.
Some people, called "gold farmers," work to accumulate as much virtual currency as fast as possible, and then auction it off on the Internet to other players in exchange for cash. Gold farming, common in countries including China, is frowned upon by some in the gaming community as cheating.
Records show agents executed a search warrant at the South Forest Avenue apartment near the university's Central Campus at 8:45 a.m. March 30. Investigators seized laptop computers, hard drives, video game systems, credit cards, a cell phone, paperwork and other computer equipment, documents say.
Investigators were seeking records of any online transactions with WOW, the Chinese-based gold-farming website www.gameusd.com, eBay, PayPal and the United Services Automobile Association, which offers services including online banking.
Last October, WOW, produced by Blizzard Entertainment, had a subscriber base of more than 12 million players worldwide, a company news release said.
Lee Higgins covers crime and courts for AnnArbor.com. He can be reached by phone at (734) 623-2527 and email at leehiggins@annarbor.com.