Posted on
Thu, Jan 19, 2012 : 2:59 p.m.
FBI informant in Hutaree case was arrested for firing gun during argument
By Lee Higgins
A key confidential informant in the FBI's case against the Hutaree militia whom federal prosecutors intend to call as a witness at trial, was arrested while the investigation was ongoing for firing a gun near his wife during an argument, AnnArbor.com has found.
The informant pleaded no contest to discharging a firearm in a building and is serving three years of probation.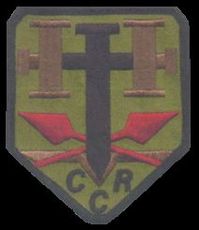 He is expected to take the stand next month as seven Hutaree members go on trial in federal court in Detroit on charges including seditious conspiracy and attempting to use weapons of mass destruction.
Prosecutors allege the group - which sometimes trained in Washtenaw County, where a few members live - discussed killing a law enforcement officer and attacking the funeral procession motorcade with homemade bombs.
Defense attorneys have said it's simply a case of hateful speech. Nine of the group's members were arrested in March 2010 as the FBI conducted raids in Michigan, Ohio and Indiana.
Records show the informant initially faced additional charges of felonious assault and possessing a firearm during the commission of a crime after being arrested Feb. 26, 2010 at his private home. In a written statement to police, he admitted to firing the gun near his wife.
"I pointed the 9 mm weapon 8' to her right and shot…" the police report says. "In no way did I intend to harm or shoot her - I just wanted the argument to end."
Using numerous sources, AnnArbor.com was able to identify the informant and filed a Freedom of Information Act request last month to obtain the police report on his arrest. However, AnnArbor.com is not revealing his identity, age or hometown because he is a confidential informant. He could not be reached for comment.
The FBI relied on the informant when agents asked in September 2008 to open a formal investigation into Hutaree. Defense attorneys have said in court filings that the informant made audio and video recordings of several Hutaree trainings over a 19-month period, and his work ended around February 2010.
He was arrested roughly a month before the FBI raids on Hutaree. Many Hutaree members were arrested March 27 at an Ann Arbor warehouse, where an undercover FBI agent held a phony memorial service for the informant after telling people he died.
The police report doesn't mention that the informant was doing work for the FBI or had any involvement with Hutaree or the militia movement.
Officers responded to the informant's home at 12:30 a.m. Feb. 26, 2010, after his wife called 911, telling dispatchers she was having a dispute with her husband and he "just shot a gun at me."
Investigators met with her near the home and she said her husband was still inside. When the informant walked out the front door, officers ordered him to the ground and took him into custody. His wife told police that they had been arguing for two hours because he wanted to quit his job and she was opposed to it.
The argument escalated, the report says, when he began throwing some of her belongings around. She started throwing some of his belongings around, including in a second-floor bedroom. Shortly after she left the bedroom, he fired the shot.
"As she walked out of the room and into the hallway she heard one gun shot and looked up and saw (the informant) standing in the hallway to her right…with a gun in his hand." He was seven feet away, the report says.
She grabbed a phone and ran out of the house. She didn't see him fire the gun, but heard the bullet strike an object close to her. Investigators found a bullet hole in a closet door in the hallway.
She told police that he didn't threaten or physically assault her during the argument and they never had a similar incident before.
At the police station, the informant initially declined to make a statement. When he was being booked, he "excitedly uttered, 'I only shot one round." He later agreed to be interviewed, providing the written statement.
Officers searched his house and found a pile of camoflauge clothes lying at the bottom of the stairs that appear to have been removed from a closet. Investigators seized seven handguns, three rifles, three shotguns, some boxes of ammunition and a concealed weapons permit.
On Wednesday, in advance of the Hutaree trial, prospective jurors began filling out questionnaires. Opening statements are scheduled to begin in mid-February.
Michael Meeks of Bridgewater Township is among the defendants in the case.
Lee Higgins covers crime and courts for AnnArbor.com. He can be reached by phone at (734) 623-2527 and email at leehiggins@annarbor.com.